When it comes to all-terrain electric skateboards, there's a wide range of options on the market to choose from.
However, if you're looking for a high-end model that will provide you with unmatched shock absorption and a full all-terrain experience, the Propel X4S is one of the most popular options that you'll stumble across.
If you want to find out more about this brilliant all-terrain electric skateboard, you've come to the right place.
In today's article, we'll walk you through a complete Ultimate Propel X4S review with everything you need to know before buying it.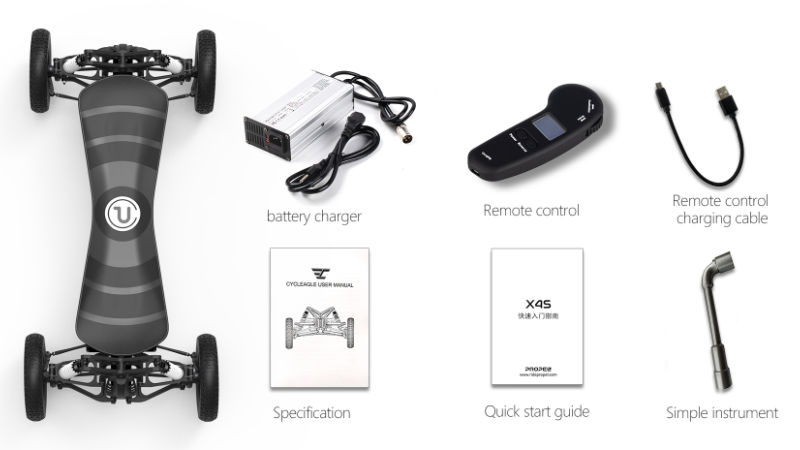 General Overview of Propel X4S
Propel is one of the biggest names in the electric skateboard industry and is known for its excellent off-road and all-terrain electric skateboards.
The Propel X4S is a Bajaboard-clone type all-terrain skateboard. Like other Baja-clone skateboards, this one has a large suspension system and huge pneumatic tires.
Once you step on the skateboard, you'll immediately notice how high you are off the ground. Yet, it has a grippy feel that keeps you secure and balanced on the deck.
The suspension system on this skateboard is truly impressive. You can feel how sturdy it is by actually jumping on the deck and seeing how great it is at absorbing shocks.
Not only that, but once you take the skateboard on your first ride, you'll quickly notice how it absorbs all the shocks and takes away all the vibration, allowing you to enjoy a noticeably smoother ride.
The Propel X4S is quite durable, but it's also quite heavy, weighing around 60 lbs or 27 kg. Additionally, the skateboard is 46.4 inches long and 22 inches wide, so it may not fit in extremely small trunks.
Despite being heavy and powerful, you'll be surprised by how easy it is to manoeuvre and control the skateboard. It may not be the most optimized skateboard out there for carving but you'll still be able to enjoy it on almost any terrain.
In addition to that, the skateboard is controlled with a LingYi ESC, which provides you with various speed and brake mods.
All in all, the Propel X4S is an excellent upgrade pick for anyone who's looking for the ultimate off-roading experience no matter the price. The skateboard is quite fast and lasts for a very long time when compared to many other options.
Pros
Unmatched off-road experience with almost no vibrations and exemplary shock absorption on rough terrains
An excellent range that extends anywhere between 15 to 17 miles, depending on the terrain
Features a great electronic control system with multiple speed and brake modes
Can reach impressive speeds while offroading, with a maximum top speed of 27 mph (45 km/h)
Cons
Noticeably bulky and heavy at 60 lbs or 27 kg, so it's not the best option if you're looking for portability
Gets a bit loud at high speeds, which can be annoying to some riders
Propel X4S Review
While buying an electric skateboard, there are several aspects and features that you need to keep in mind in order to land the perfect pick for you. In the following section, we'll see how the X4S performs in each of these aspects.
Deck Construction
The first impression anyone has when they see the Propel X4S is that it's massive. This skateboard is easily one of the largest in the market, standing at 46.4 inches long and 22 inches wide.
It also weighs around 60 lbs, so it's not the easiest option to carry and you'll most likely need both your arms to carry it all the time.
The skateboard's deck is made of high tensile carbon fiber that protects it from cracks and has a concave design that grips very nicely while riding. It can also support heavy weights with a maximum payload rating of 200 to 264 lbs.
One of the things you're going to notice is also your clearance. The deck is placed relatively high when compared to other skateboards, with a deck height of around 13.8 inches.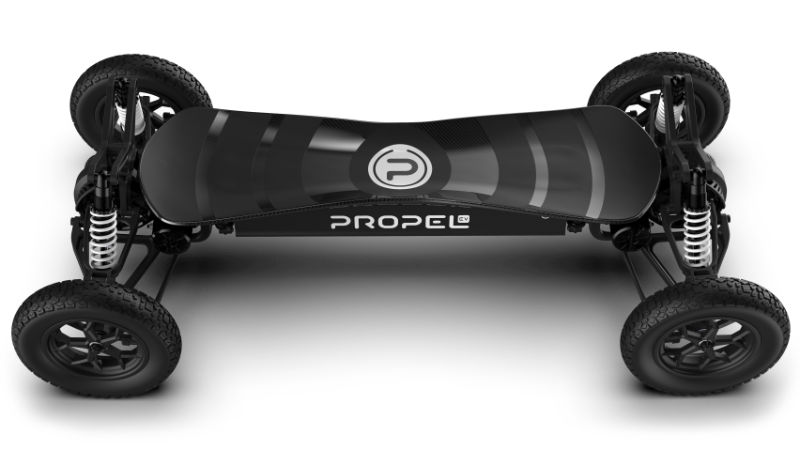 Motor
When it comes to the skateboard's power, it's equipped with four 1,500 watt size 6374 brushless motors with belt drive transmission.
At such a high output, the motor has a theoretical maximum speed of around 27 mph or 45 km/h, which is much higher than most electric skateboards on the market and surpassed by only a few excellent options!
Of course, being a mainly off-roading skateboard means that the speed is not as important as the suspension system and the ability of the skateboard to stay balanced on sharp turns.
Yet, this powerful motor also gives the Propel X4S all the speed it needs to climb steep hills. In fact, the electric skateboard is capable of climbing hills with an incline percentage of up to 35%!
Suspension and Shock Absorption
The suspension and shock absorption system of the Propel X4S is easily the star of the show. This skateboard is equipped with an advanced vertical absorption system that you can easily adjust to your liking, depending on the kind of terrain you're using the skateboard on.
The suspension system is independent of each other and made of durable alloys, providing superior shock absorption.
With this kind of coil suspension, you'll enjoy a smooth ride on just about any surface, whether it's asphalt, concrete, gravel, grass, or even sand!
The system allows you to adjust the spring tension on the coil, so you can compress it as much as you want if you want a stiffer deck, which gives you a significantly stable performance when zipping through even streets.
On the other hand, you can also loosen them up if you want to enjoy carving with the skateboard.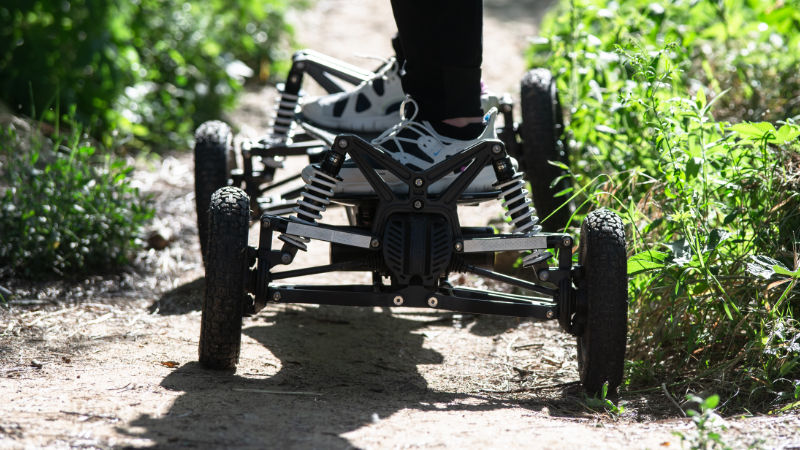 Wheels and All-Terrain Capabilities
In order to make the most out of a brilliant suspension system, the wheels must also be exquisite, and that's exactly the case when it comes to the Propel X4S. The wheels of the Propel X4S are easily one of the largest we've ever seen on a skateboard.
These wheels have a diameter of around 10 inches and a pneumatic design with a tire pressure of 2 bar or 29psi.
The massive wheels will provide an extremely smooth ride on any surface and share in providing the high clearance of the skateboard, so it can kill all the vibrations produced from running over dirt and gravel.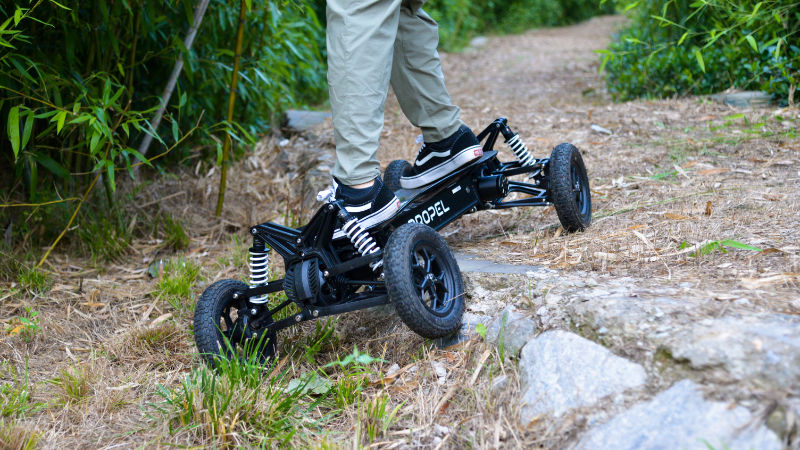 Speed Control
The Propel X4S comes with a LingYi ESC, which may not be the best option on the market, especially when compared with options like Hobbywing, but it gets the job done, so we have no complaints on that part.
The LingYi system is easy to use and offers various modes for speed and brakes. In fact, the brake system on the Propel X4S is so powerful that most skaters will tune on to the lowest setting.
The electronic speed controller allows you to easily monitor the speed, mode, and battery level of the skateboard.
The LED screen also presents you with several safety warnings as well as a cruise control option.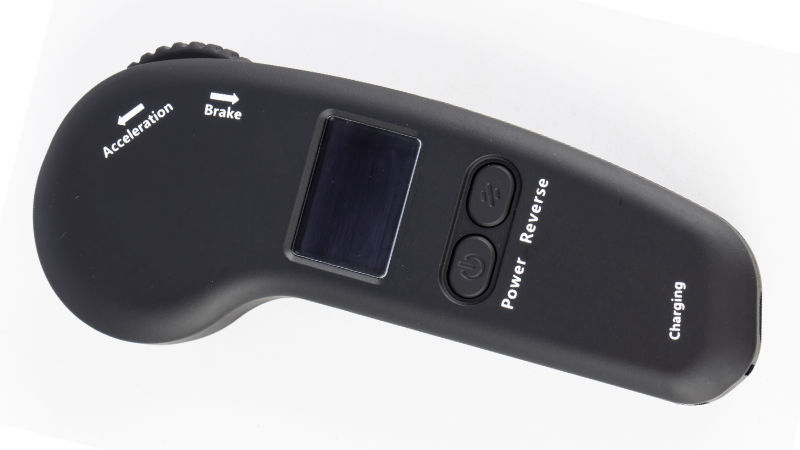 Battery Life
The Propel X4S comes with one of the best batteries in its price range. The skateboard comes with a lithium ion 10S6P Samsung 35E battery pack with a powerful voltage of up to 36 volts.
This battery's capacity is around 21 ampere hour or 756 watt hour, which allows the Propel to run for as long as 17 hours.
The best part here is that the skateboard comes with 2 batteries, so you'll get double the range (34 hours).
In addition to the battery's massive range, it also has a relatively decent charging speed, as you'll be able to fully charge the skateboard in under 5 hours.
Keep in mind that the single battery pack weighs around 8.81 lbs or 4 kg, so it can be a little heavy to carry around.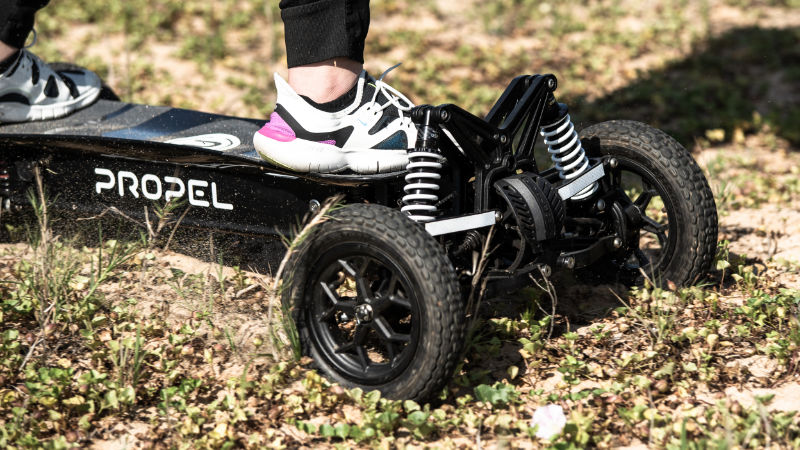 Price and Value
Lastly, it goes without saying that the Propel X4S is still considered an expensive electric skateboard.
However, when you compare its performance specs to other high-end all-terrain electric skateboards, it starts to look a lot more appealing.
The amazing suspension system of the Propel X4S eboard along with the extra battery pack can somewhat justify the price.
Moreover, the skateboard comes with a 1-year warranty, so it's still a decent value for money at the end of the day!
Alternatives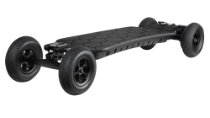 WowGo AT2
The WowGo AT2 is one of my personal favourite off-road electric skateboards. It's powerful, comfortable and uses top-quality parts.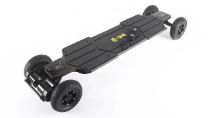 B-One Hercules Carbon AT
The B-One Hercules is one of the best cost-effective AT electric skateboards available.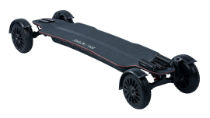 Backfire Ranger X3
As far as hub-motor electric skateboards go, the Backfire Ranger X3 is incredible. It tackles the toughest of terrains with ease and has the power that'll make your jaw drop.
Final Thoughts: Is the Propel X4S Worth the Investment?
This wraps it up for today's guide that walks you through everything you need to know before buying the Propel X4S.
As you can see, this electric skateboard simply redefines the word "all-terrain". The skateboard provides an unmatched experience while riding on a skateboard, whether you're carving on an even road or offroading on the roughest of terrains.
The Proper X4S is an excellent choice if shock absorption and enjoying a smooth, fast, and long ride are your main priorities while riding a skateboard.
With that said, the skateboard is definitely worth the investment if you don't mind its relatively bulky build and looking for speed, range, durability, and pure all-terrain pleasure!
On Propel's Website