Hey eSkaters!
I've just taken the Base Camp Ghost for a ride and I have to say, right from the top, this electric skateboard is very impressive.
It's definitely not an eBoard for everyone. In fact, it will probably suit only a small subset of eSkaters, but for those people, it is amazing.
So, let's get into this Base Camp Ghost review and find out if this is the right eBoard for you.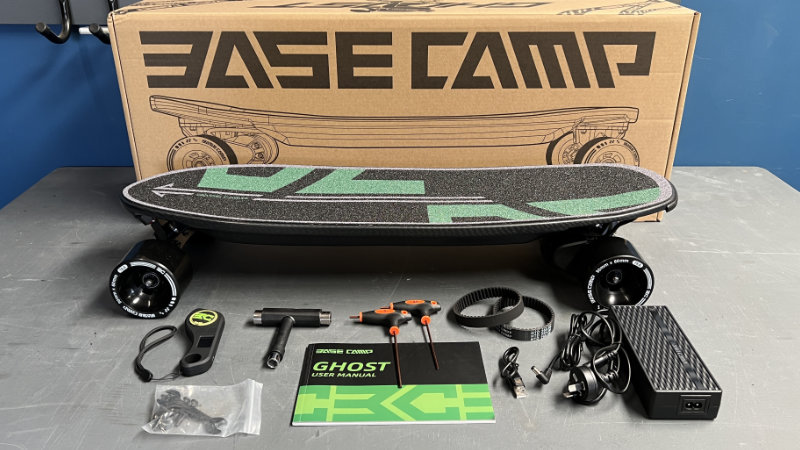 Base Camp Ghost Review
Deck and Design
The first thing you'll notice about the Ghost is its rounded bowl shape deck which almost looks like it's sagging inwards.
This design is very intentional because the deck itself is very stiff with pretty much zero flex to it.
This bowl shape allows you to set your feet into the deck to give you more control when making tight turns and providing more support when taking off aggressively.
The griptape is very grippy, almost to a point where it was kind of hard to shift my feet around. In my eyes, this is a really good thing, because once you have your feet placed in the right position, you can be sure that your feet won't slip around and you'll always know where your feet are on the board.
It has a thin layer of shock absorbing griptape which goes a long way to making the ride a little more comfortable, because that's really the only comfort feature you get with this one.
The deck is made of T700 3K carbon fiber which is the same material they use in supercars. Base Camp say that when they were designing this deck, they draw inspiration from Formula 1 racing, as they aimed to create a deck that was lightweight but also strong and durable.
The carbon fiber is then wrapped in a layer of ABS to make it more resistant to physical damage and chemical corrosion.
The deck is made up of a one-piece mold to make it IP65 waterproof and dustproof.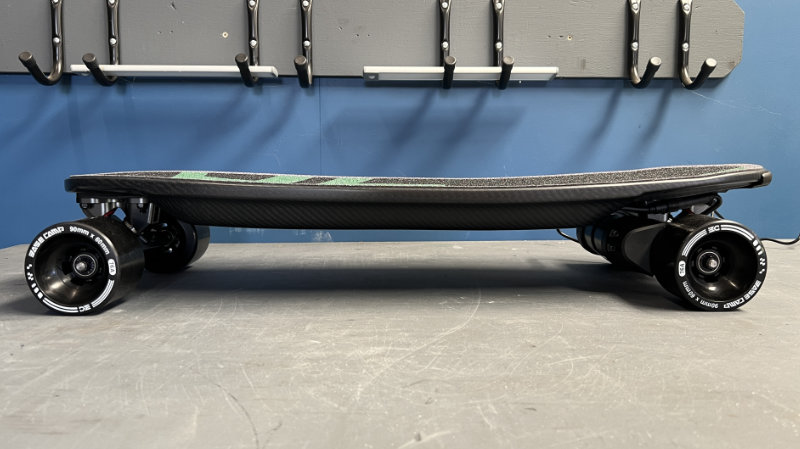 Wheels
The Base Camp Ghost has 90mm 76A polyurethane wheels based on the V2 Hemotox formula which is the same formula used by some of the best eSkate wheel brands like Boa.
Their clear benefit is that they are super fast, but they are still quite grippy so you can head into corners fast and come out fast.
Because of the belt-drive design, you can also swap these wheels out for almost any other wheel you would prefer.
Base Camp also sell 96mm glow wheels and honeycomb wheels to suit any style of riding you desire.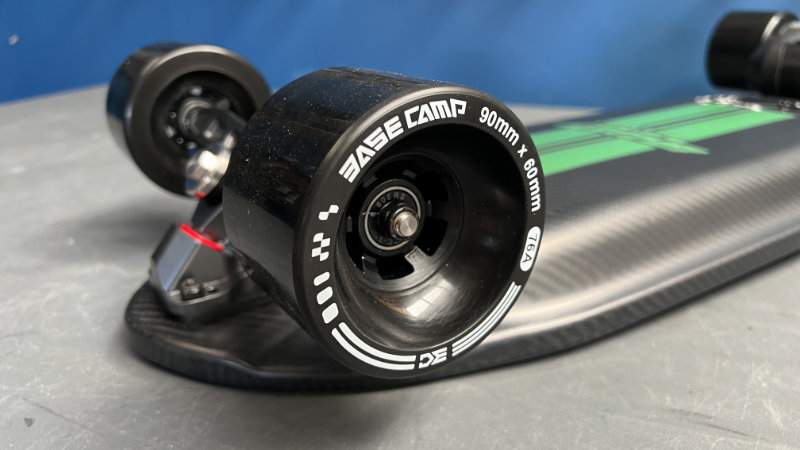 Trucks
The trucks on the Base Camp look awesome. They have these cutouts throught them which not only look great but reduce the overal weight of the board.
They are CNC 7075 aluminium, which Base Camp say is aerospace grade material.
When I took the board for a spin, I didn't find myself getting any speed wobbles. They were nice and sturdy and had great responsiveness when making turns and carving.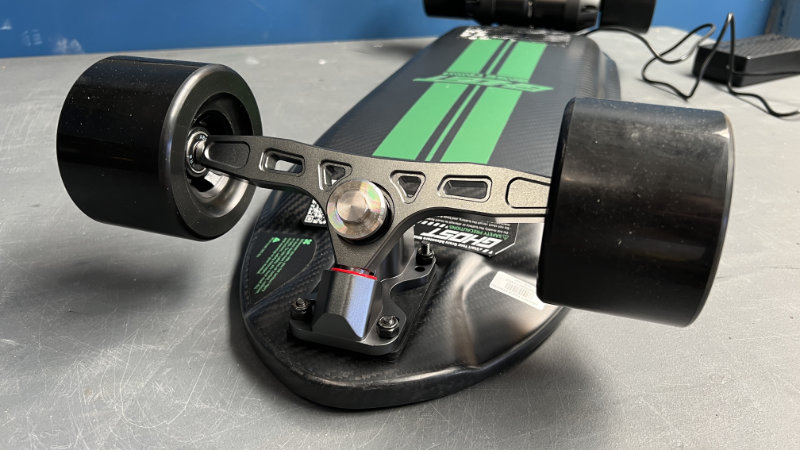 Battery and Range
The heart of the Base Camp Ghost is a 12S2P Molicel P42A 21700 8.4Ah 373Wh battery pack and is specced to get you a range of 25 miles / 40km.
I rode for just over 10km and the battery indicator on the remote had only dropped a small amount.
This is one of the only boards I've ridden recently that I have confidence that it will actually hit the range they market it to have.
I spent almost the entire time in mode 2, for reasons I'll explain in the next section, and I rode up a handful of steep hills for testing. So, to see quite a lot of battery left after my ride, I was very impressed.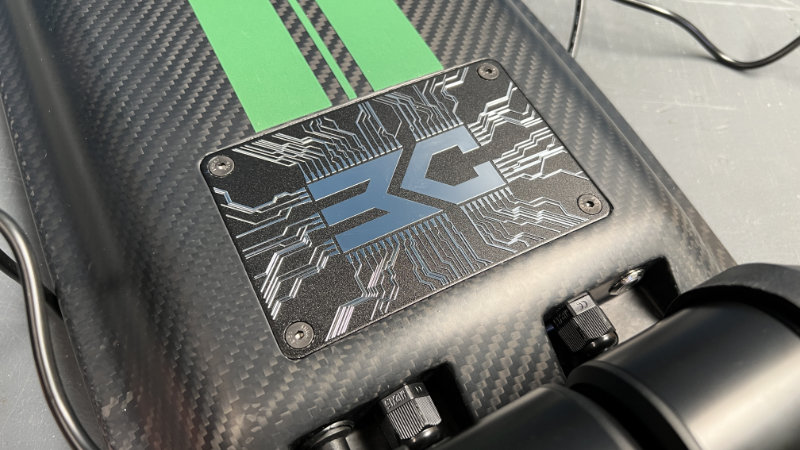 Motors, Speed, and Hill Climbing
The dual 3000W belt-drive 5255 Hobbywing motors are next-level.
The speeds this eBoard cang et up to is kind of scary for a deck of this length.
It has a top speed of 34mph / 54kmh and the acceleration on it is just insane.
It's waaay too fast for me, which is why I spent most of the time in speed mode 2.
And even in that mode, it was more than enough power for me.
I was able to climb hills without any issues. I full throttled up at 18mph / 29kmh.
So I tested its hill climbing ability in speed mode 4 and it completely dominated the hill. I was pushing 20mph / 32kmh uphill and it had plenty of more room in the throttle.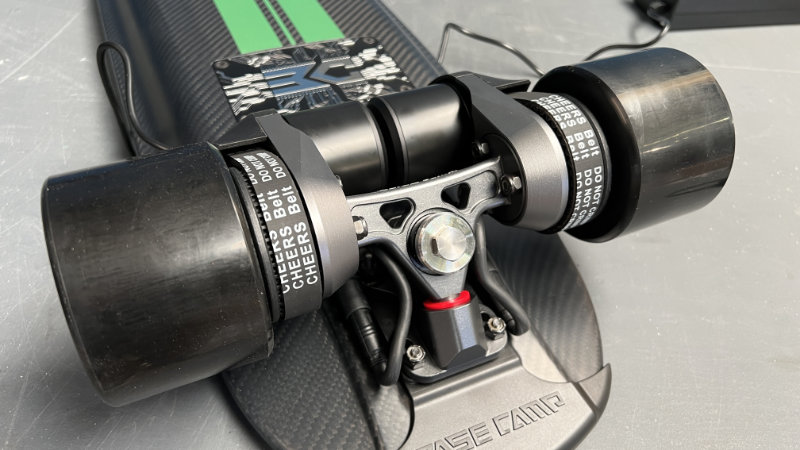 ESC and Remote
Base Camp created an ESC tailored for the Ghost that they call the XESC, and it comes with a remote that I haven't seen before.
The XESC is a lot like the VESC with a few key differences.
The VESC offers really high current a high voltage to allow DIY enthusiasts to build eBoards around it without limitations, however, it means that there is often wasted power. The XESC is dialled-in to match the performance capabilities of the Ghost without any power wastage. It provides the optimum amount of power to the motors from the battery while maintaining stability and safety.
The control you get from the XESC is great. I always felt like the board responded to my thumb movements as expected and I felt like I had total control over the speed and braking.
The kick in the acceleration in mode 2 was fast. In modes 3 and 4, it was insane. You really need to have some level of experience to ride this electric skateboard, because if you don't know how to shift your weight accordingly, you're going to end up on your ass.
The remote, which Base Camp call SOUL, is really quite good.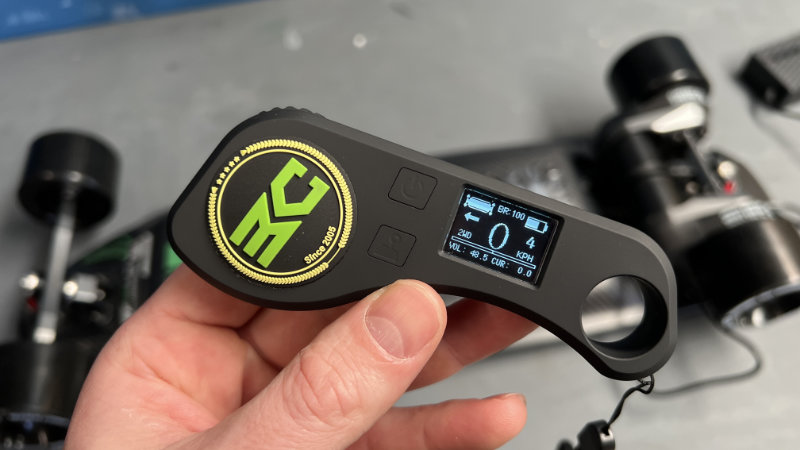 The design is something I haven't seen before and can be charged with USB-C.
The board has a standby mode where after 5 minutes of not riding, the board will go into standby, where it can then be turned on and off with just the remote for 24 hours. After 24hrs, the board will shut down and you'll need to turn it back on again at the board.
You can put the board into reverse by double-clicking the gearbox button and you can enter cruise control by clicking the power button when you're at the desired speed.
The OLED display shows all the useful info like battery levels, current speed and speed mode.
You can also cycle through extra info by clicking the Power button when the remote is on. This will display info such as ESC and Motor temperature, motor RPM, the motor type, drive ratio, wheel diameter, motor pole pairs, trip distance and odometer (total distance).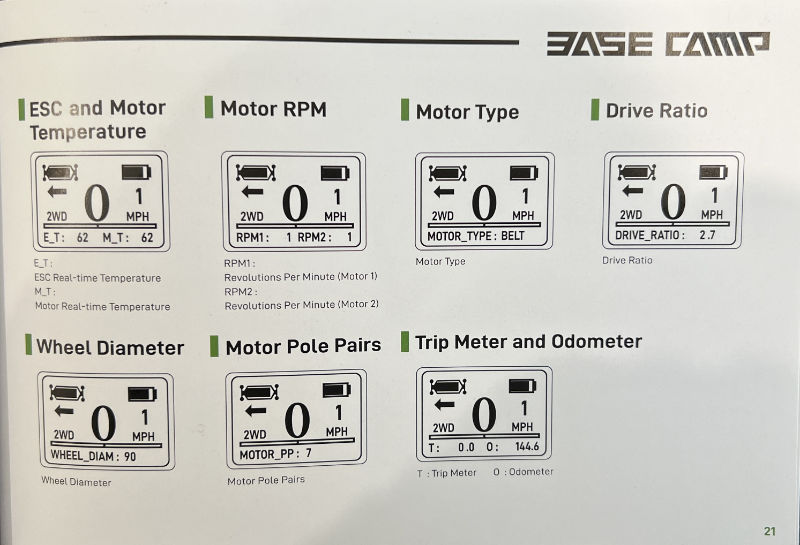 Ride Experience and Overall Quality
Riding the Base Camp Ghost makes me feel like I'll become a ghost sooner rather than later.
It has some immense power that I, who I would consider an intermediate rider, can't even handle.
It's acceleration and top speed are definitely suited for advanced riders who are looking for that adrenaline kick.
The deck is stiff so you spend a lot of energy balancing and absorbing vibrations from the road. After my ride, my feet were quite sore. You would eventually build up more foot strength, and I've been riding more flexy decks lately, so I miht just not be used to it.
Base Camp are committed to providing a quality experience to their customers so they offer a 12 month manufacturers warranty that covers defects in workmanship and material, plus lifetime technical support.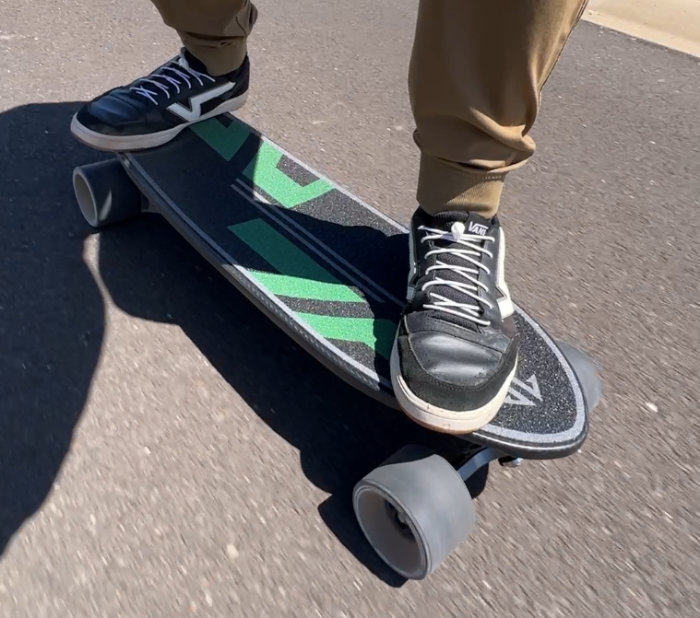 Extras
The kicktail is there, but it is really small. You can make very small tictacs around corners if need be, but it's not easy.
On the underside of the kick tail is a protective puck, which is handy to protect the deck when you kick it up to carry it.
Lastly, it comes with a lengthy and in-depth user manual that outlines all of the boards features and specs. Now that I think about it, I should read it to find out what that other remote info is.
Final Thoughts
Overall, the Base Camp Ghost is an extremely powerful electric skateboard and should be reserved for advanced riders who are looking for a real thrill.
I can't recommend it as a casual cruiser, becuase it doesn't offer the level comfort that I am used to in electric skateboards when riding at slower speeds.
The Ghost is for going places fast.
It comes in at US$1,299, so it has the premium price tag, but I do think it's warranted for the kind of performance you get out of it.