Watch:
The Meepo Shuffle V4 is a fantastic value-for-money beginner electric skateboard that still packs a lot of power.
It's ideal for commuting to work or school and just general cruising around on weekends with friends.
At first glance, it doesn't look like anything different or new, but it's the specs and more importantly the riding feel that separates the Meepo Shuffle from the rest.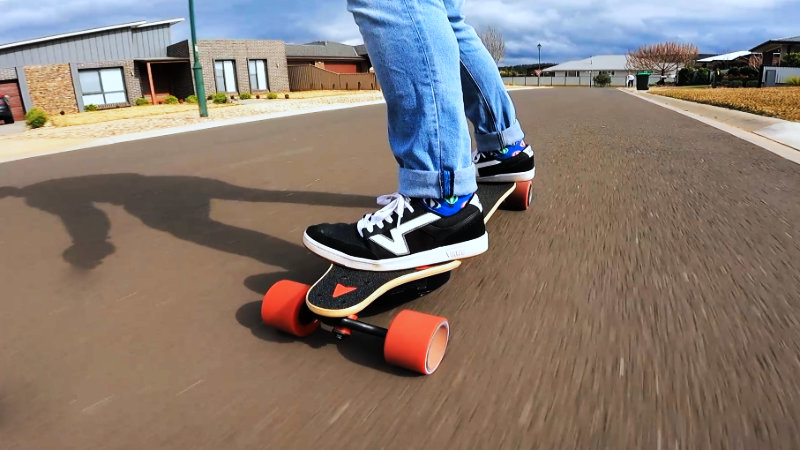 Features and Specs
Deck
The concave on the deck is quite deep and you instantly notice it when you step on the board. When riding, I was thankful to have these flared edges because it gave me something a little extra to lean against when turning and increasing the turning circle. I could make fairly sharp 90° turns around the neighbourhood footpaths.
The deck is 36" long with a 30" wheel base. Personally, I find this length to be a little short as I prefer to have a wider stance when riding. That comes down to personal preference, and I would say that anyone less than 5'10" would have no issues with this length.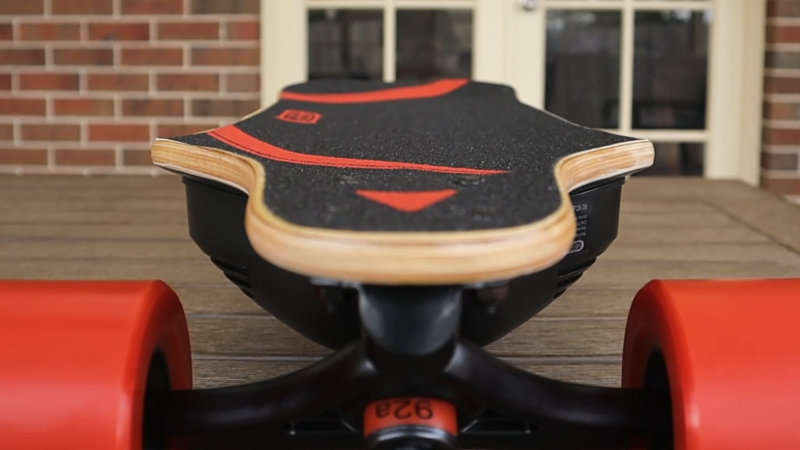 Wheels
The wheels are 90mm with a 60mm contact area. They have a durometer of 72A on the front and 82A on the back which isn't often seen in the eskate industry. I'm not entirely sure why they would do this but theoretically, this would lead to having a grippier front end with less friction at the back. So it should maintain its stability while turning and increase acceleration and range by removing drag.
This setup is also good for sliding and carving as it is easier to whip out the rear wheels while the front wheels hang on to your line.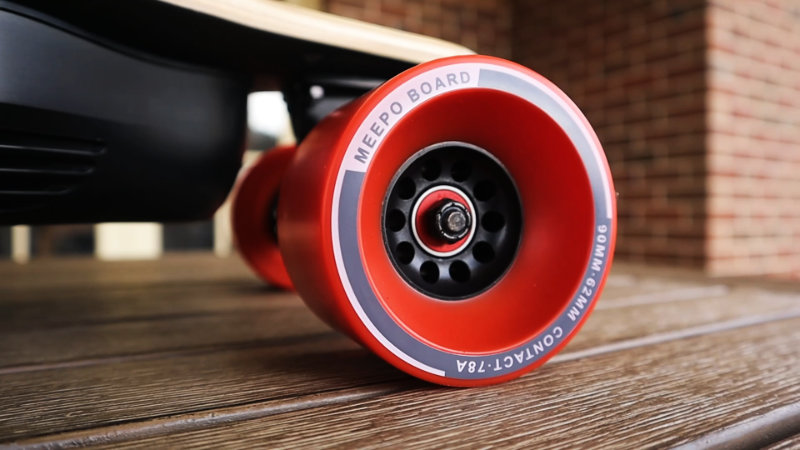 Trucks
The trucks are 7" 45° which have been redesigned by Meepo to offer increased stability and effortless manoeuvrability. Which in my experience while riding is to be the case. I found that I was able to ride at high speeds without getting any speed wobbles even while I had the trucks loosened off to still be able to get that enhanced turning ability.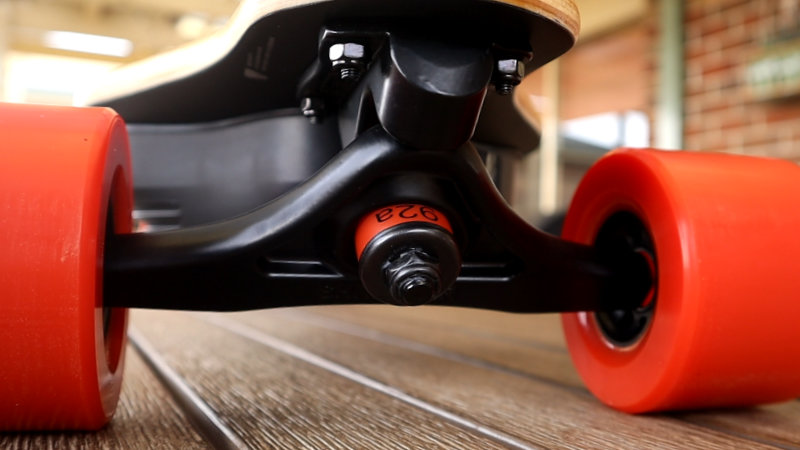 Battery & Range
The battery is a 10S2P 18650 pack with a 144Wh capacity. That's quite a large capacity considering the configuration which Meepo markets the range to be 11 miles (18km).
On my ride, I ended up with range of 11.62km which is not unexpected for someone of my build and riding style.
I weigh 90kg and I push the eboard pretty hard. I do all of the top speed, acceleration and hill climb tests throughout this ride so I always get a lot less than the marketed range.
So all that being said, I do think the Meepo Shuffle V4 is capable of getting an 11 mile (18km) range if you ride more conservatively and weigh less than I do.
A key benefit of the Shuffle V4 is that you can purchase an 8A charger which can give you an extra 3km of juice from just a 5 minute charge stop. On top of that, it can fully charge the Shuffle V4 in 30 minutes. This is great if you want to go on long day trips and only have to take short breaks every now and then.

Motors & Power
The Meepo Shuffle V4 is powered by dual 620 watt hub motors equating to a total of 1240 watts.
These are specced to reach a top speed of 29mph (46kmh) and climb hills with a grade up to 30%.
They are big numbers to hit for a beginner electric skateboard, so let's see how it really did.
The top speed I hit while out on my ride was 36kmh and I didn't even push it to its limits. Due to the narrow stance, I didn't feel comfortable hitting higher speeds but I could tell there was still a bit of room left in the throttle.

As for the hill climbing, I felt that it was a bit lacklustre. At the steepest part of the hill, which aproximately has a 13% grade the board slowed right down to 7mph (11kmh).
We do have to remember that I am 90kg and the Shuffle V4 is considered an entry-level electric skateboard.
While I think that it would struggle to get up a 30% hill grade, lighter riders will see better results than I did up 15% hill grades.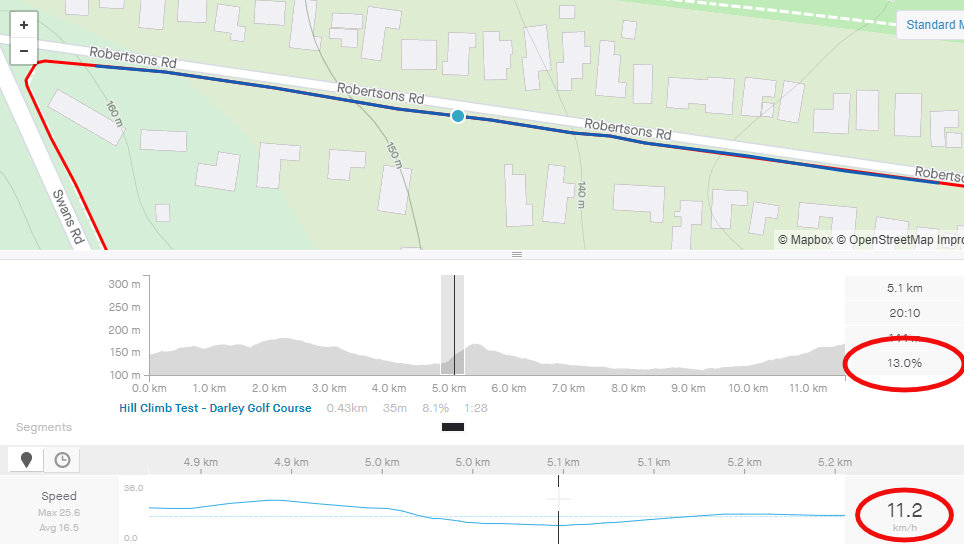 Another great benefit of the hub motors, and these ones in particular is the reduced amount of resistance when powered off. This means if the battery does happen to go flat and you still have some distance to travel, you can kick push the board. Plus, when the battery does die, you still have access to the brakes, so you can get up some good speed while kickpushing and not have to worry about how you're going to stop.
ESC
The Meepo Shuffle V4 is using the LY-FOC 1.0 ESC which boasts a super smooth skating experience with responsiveness down to the millisecond.
When I was out riding the Shuffle I did find that the motors accelerated consistently with the movements of the thumbwheel which gave me complete confidence on the board.
Remote
The remote I used during my testing is not the same as the remote that will be delivered with production units, so I am just going to leave this for now and come back to update it when I have received the new remote.
If you want to be notified of the update, then follow me on Instagram to hear it first.
Enclosure
All of the electronics are packed in two hard plastic enclosures with an ingress protection rating of IP6X. This means that it is completely dust-tight but has not been tested for any water resistance.
Pro Tip: Avoid riding in the rain or wet weather because not only can it damage your eboard, but it is dangerous due to the lack of grip the wheels have on wet surfaces.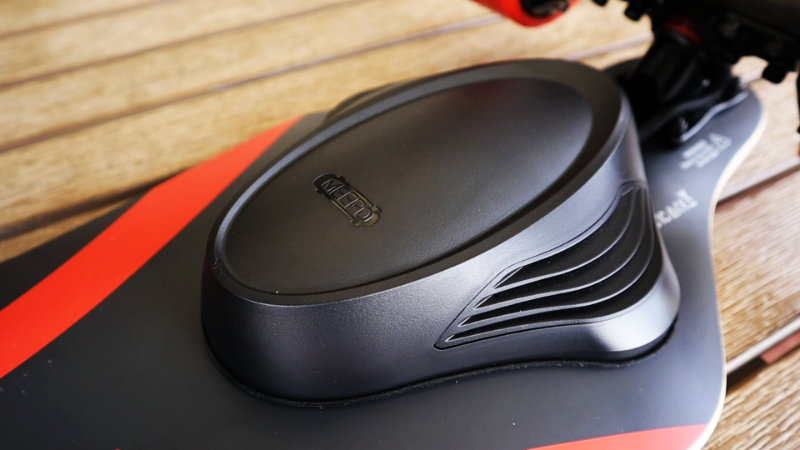 Final Thoughts
The Meepo Shuffle V4 would be toward the top of my list for someone looking to buy their first electric skateboard.
It offers the perfect balance of being easy to ride and learn on while having enough power for you to grow into as your skills and confidence progress as an eskater.
Whether you're wanting to commute on this eBoard or just want something to cruise around on on the weekends, the Shuffle V4 is a great option.
On top of all this, at US$XXX it is a very affordable electric skateboard and offers value-for-money that is second to none.
That's my Meepo Shuffle V4 electric skateboard review. I hope I've helped make your search for the best electric skateboard a little easier.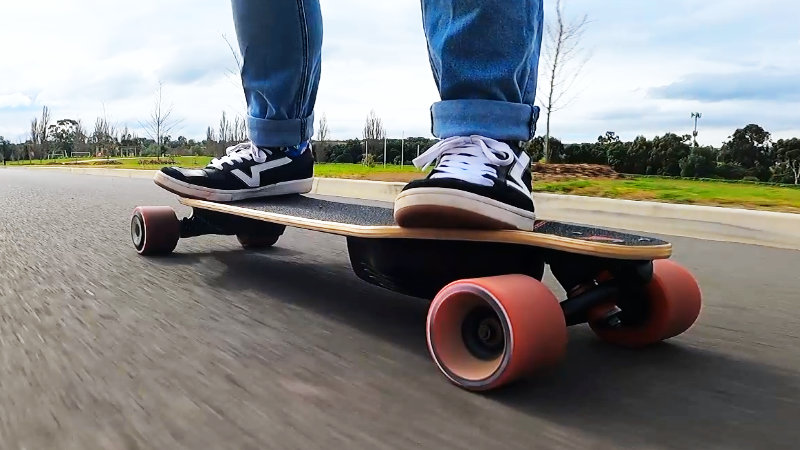 Alternatives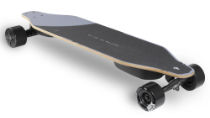 WowGo 2S Pro
The WowGo 2S Pro is an amazingly comfortable electric skateboard that you could skate for hours.