Watch:
The Meepo City Rider 2 is the latest 'All-Terrain' option from Meepo Board.
I put All-Terrain in quotation marks because Meepo has named it the 'City Rider' even though they have hefty all-terrain wheels on it.
Aside from the name confusion, I find the Meepo City Rider 2 to be a fantastic off-road and on-road electric skateboard.
Especially for its affordable price of US$899, it comes in as one of the best All-Terrain Electric Skateboards under $1,000.
I put it to the test, and while overall I was very pleased with it, I also found some things that were a little troubling.
Let's go through everything I found during my Meepo City Rider 2 review.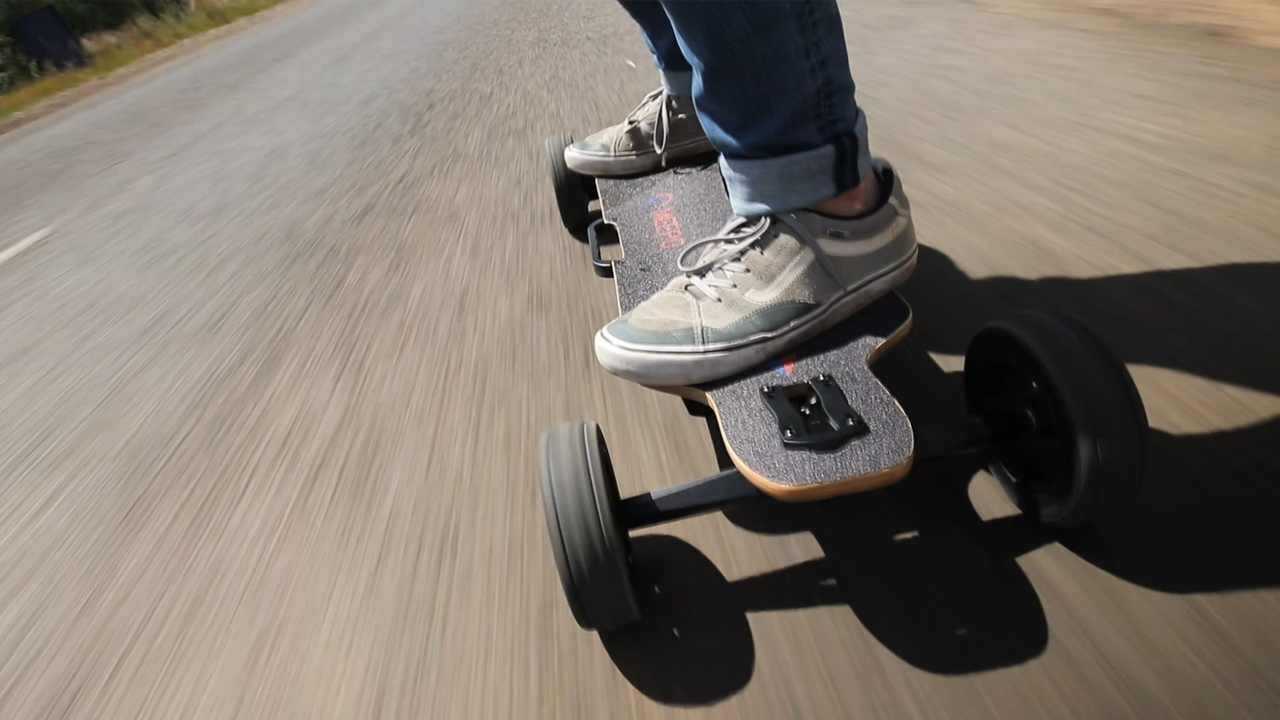 Range Test
The marketed range is 38km (24 miles). And that's riding at a conservative pace on perfect, flat roads with a rider of 80kg.
In reality, you're rarely going to have those conditions.
The range I got was 23km (14 miles).
That's far below the marketed range, but of course, my riding environment was not your average conditions.
I'm just over 90kg, I rode really hard in the highest mode possible and did lots of testing including many hill climbs, top speed and acceleration tests.
I'm always going to get a lot lower range.
Lighter riders and those who plan to ride at a more comfortable pace will easily see a range closer to Meepo's marketed value.

Top Speed Test
If you have a keen eye, you might have seen a spoiler for the top speed in the screenshot above.
On my top speed test, I managed to hit a max speed of 43.6kmh (27.1mph).
That's just shy of the marketed top speed of 45kmh (28mph). which I think could easily be hit under perfect conditions or even just for lighter riders.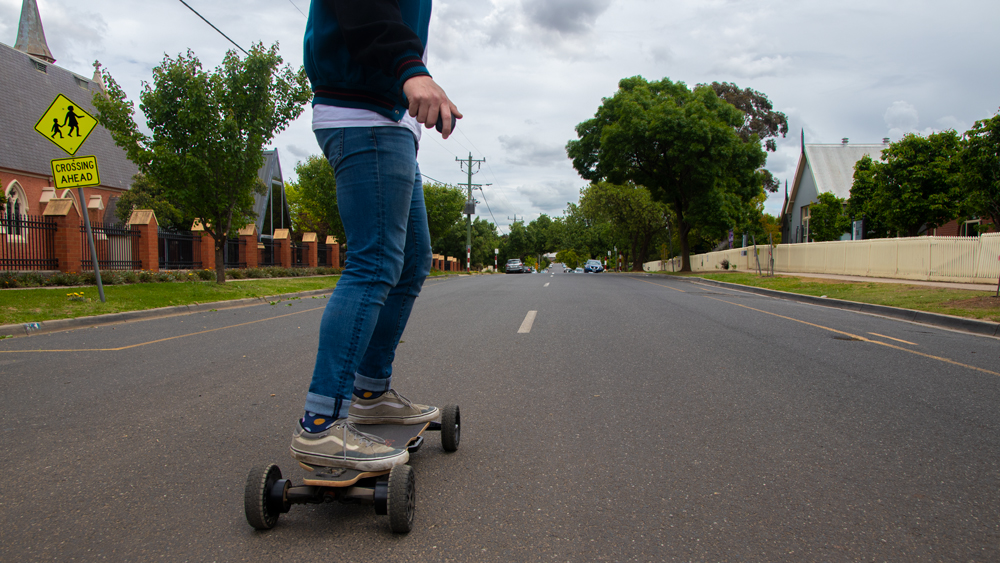 Acceleration Test
The acceleration is hard off the mark and quickly gets up to 30kmh (20mph). It rounds out at the top end and gradually brings you up to the top speed.
I'd say you can achieve 80% of the top speed within the first 40m with the last 20% of speed taking around 60m to get up to its max. That's only an estimation though, I didn't actually test this, it's just how it felt.
It's that low-end power which is required to make this a viable off-road electric skateboard. Without it, you wouldn't be able to accelerate out of grass or dirt trails with much power at all.
Even with its punch, I didn't experience any jolting in the acceleration curve which gave me a lot of confidence to jet off the mark each time I wanted to get going. It's a really fun burst of speed to get up to your desired cruising speed.
Braking Test
In the video at the top of this article, you can watch the braking test.
I rode at 30kmh and slammed on the brakes to measure how long it took me to stop.
The distance it took from 30kmh down to 0kmh was 13.4m.
I think that's a very reasonable distance to come to a complete stop.
Keep in mind that 30kmh is fairly fast. Most countries have an electric skateboard speed limit of 25kmh.
In these cases, your braking distance is going to be a little bit lower.
For heavier riders, it's obviously going to take a little longer to stop while lighter riders will come to a stop a bit faster.
Hill Climb Test
The hill I used as a test had a grade of approximately 12% and is around 200m long. So it's not the steepest but the majority of hills have a grade lower than 15%, plus it's enough to get an idea of the City Rider 2's hill climbing ability.
On the climb, I was maxing out at a speed of 25kmh (16mph) and it didn't feel like the board was lagging at all. It felt like it was pulling up the hill with ease.
I expect that it could easily do over 20% hill grades. 30%, maybe for lighter eSkaters.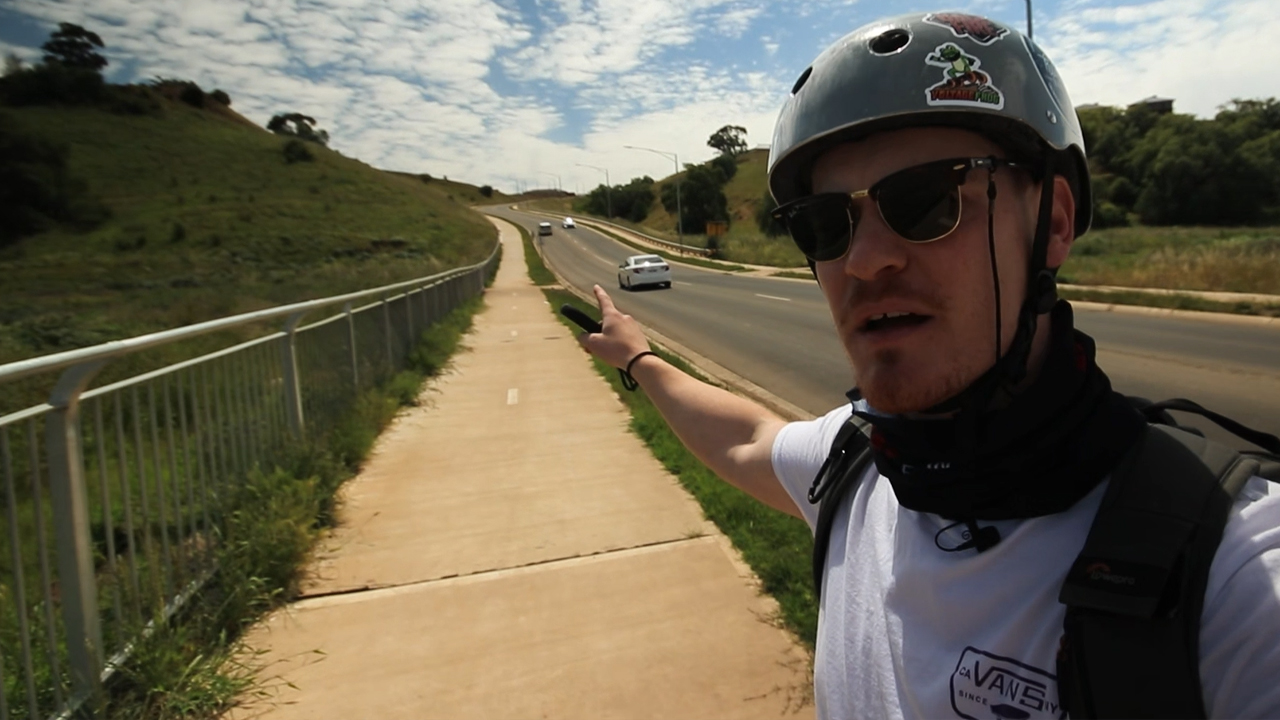 Features & Specs
The big standout feature of the Meepo City Rider 2 is the planetary gear drivetrain.
For those that are new to electric skateboarding, historically, there have been two main motor types, hub motors and belt-drives. There are others, but these are the two most popular.
They are really good motors and offer the performance of belt-drives but with the minimal maintenance of hubs.
They are really loud. Possibly even a little louder than some belt-drives out there. That's just the tradeoff you have to make for these gears.
The other concerning thing here is that the motors are exposed to the outside of the wheels. This could mean that water, dirt, sand or whatever could find its way into the motors and cause all sorts of trouble.
Meepo has assured that it is very unlikely that this will happen when the wheels are spinning because the force of the wheels will turn any debris away from the motors.
So just don't ride into the dirt or a puddle of water and come to a complete stop. Actually, I don't recommend riding in wet weather at all.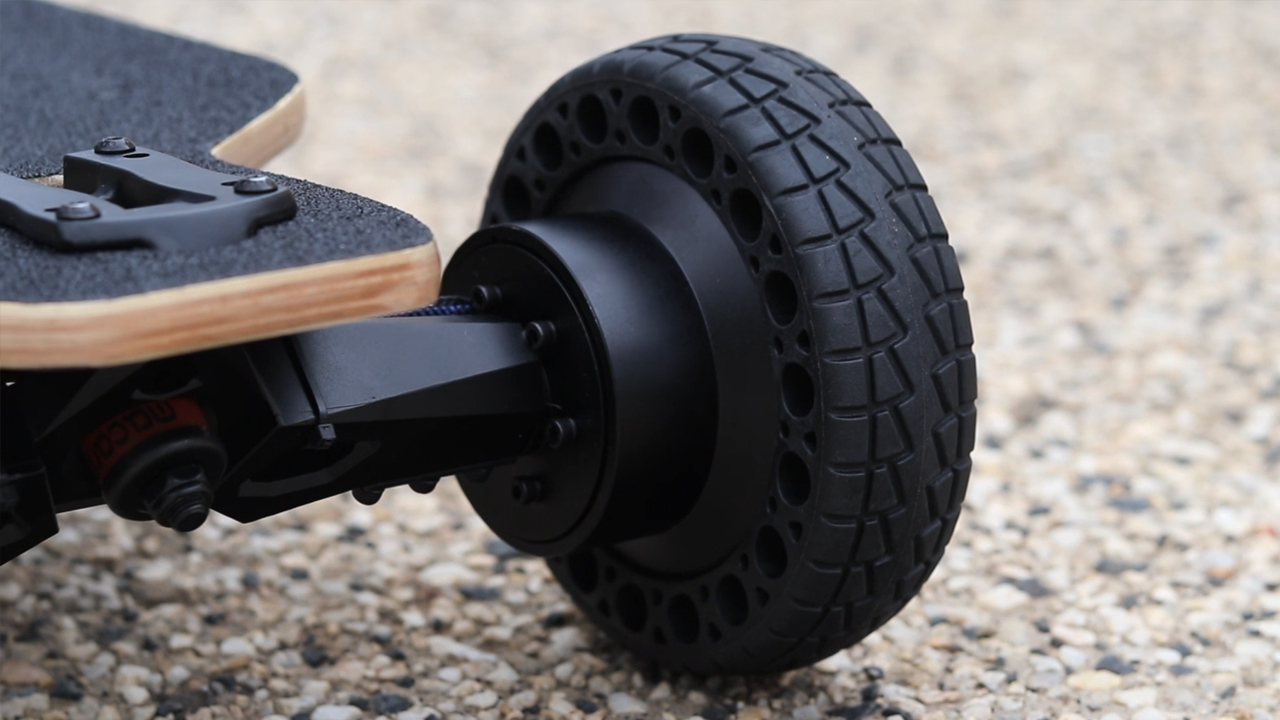 The Meepo City Rider 2 comes with the M4 remote which is running Meepo's modded version of the popular HobbyWing ESC.
And it's great. No jolting on the acceleration or braking. However, there is one thing that I need to tell you about.
This only happens when riding downhill with the brakes fully applied.
You'll be at an almost complete stop. When you slowly release the brakes, the is a large jump between being stopped and rolling. It was very hard, near impossible, to control a slow decline speed.
The remote has 4 riding modes, cruise control and reverse. The riding mode can be changed while the motors are engaged, including while in cruise control which I found to be a bit of a safety concern.
Imagine a graph where the x-axis is the speed. At the left is 0kmh and on the right is the max speed of the mode you are in.
Now, in speed mode 2, you apply cruise control at 15kmh. With mode 2's top speed being 20kmh, your cruise speed is at 75% of max for that mode.
Now, while continuing in cruise control you click the mode button to change into mode three. The top speed of mode 3 is 46kmh. 75% of that speed is 34.5kmh.
When you move up a mode while in cruise control, the speed also increases to follow the ratio, not the current speed.
Just be mindful of this. If you want to ride in cruise control, make sure you disengage cruise before changing speed modes.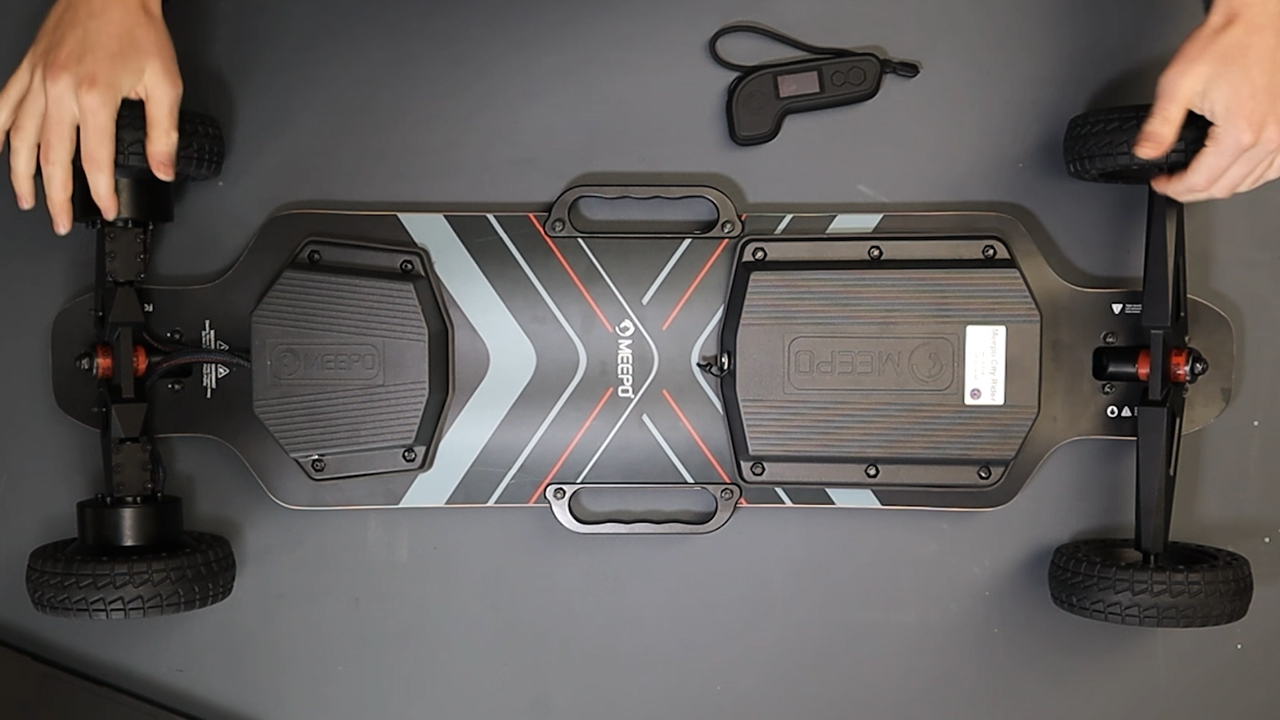 The battery is a 12S3P config running 18650 Samsung 35E cells, giving it 453.6Wh. Which is MASSIVE.
And it needs it to pull the big wheels and run those planetary gear motors.
But, it makes the board REALLY heavy and awkward to carry around. I guess that's why they opted to install the carry handles on each side of the deck which I am thankful for. Without them, it would be a nightmare to move this board when you weren't riding it.
I also think it's great that the handles are an external piece of hardware and not a cutout in the deck that a lot of eskate manufacturers (including Meepo) often do. This helps the City Rider 2 maintain its strength.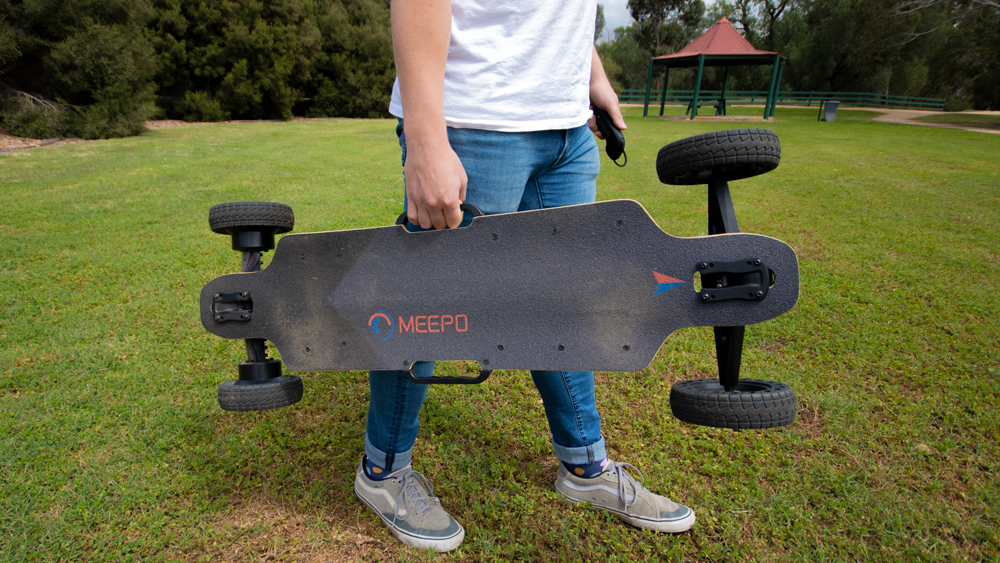 It has 150mm (6″), rubber, airless tyres so you don't need to worry about getting a puncture or having to pump up your tyres when you head out for a ride.
They are so comfortable and make riding over bumps and cracks a breeze. They also do a great job soaking up the vibrations from the road. So you don't get the foot fatigue you usually would with street decks.
The trucks aren't like anything we've seen on a Meepo board before. They have a mountainboard style aesthetic, without the suspension.
I found the cornering to be very sharp and agile. So much so that I had to really take control of the board while riding to prevent speed wobbles.
The turning circle is amazing. You can literally do a 180 turn on a street that has a width of 10m.
But because of this turning circle, I found that the wheels would often hit my toes which hangover the edge of the deck slightly.
So, I tested if you would get wheel bite against the deck and I couldn't get the wheels to hit the deck. It only turned far enough the hit my overgrown feet. If you have feet that are shorter than the deck width of 24cm then you're not going to have this problem.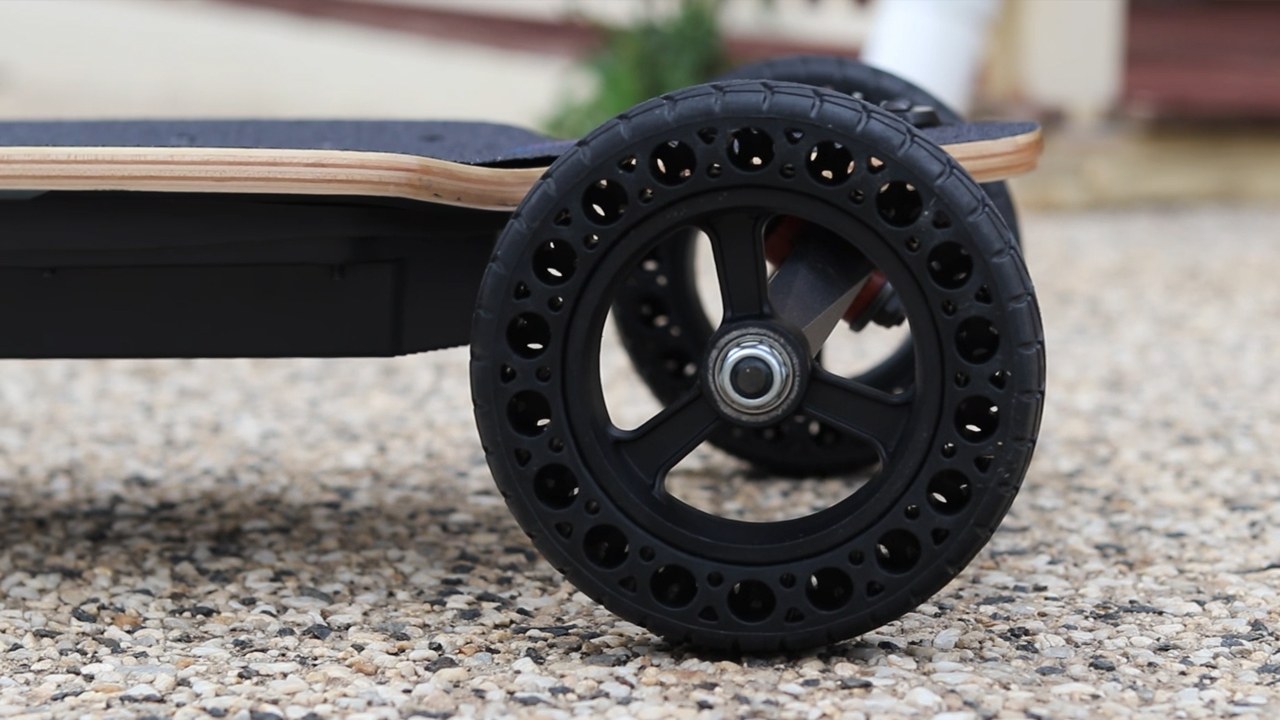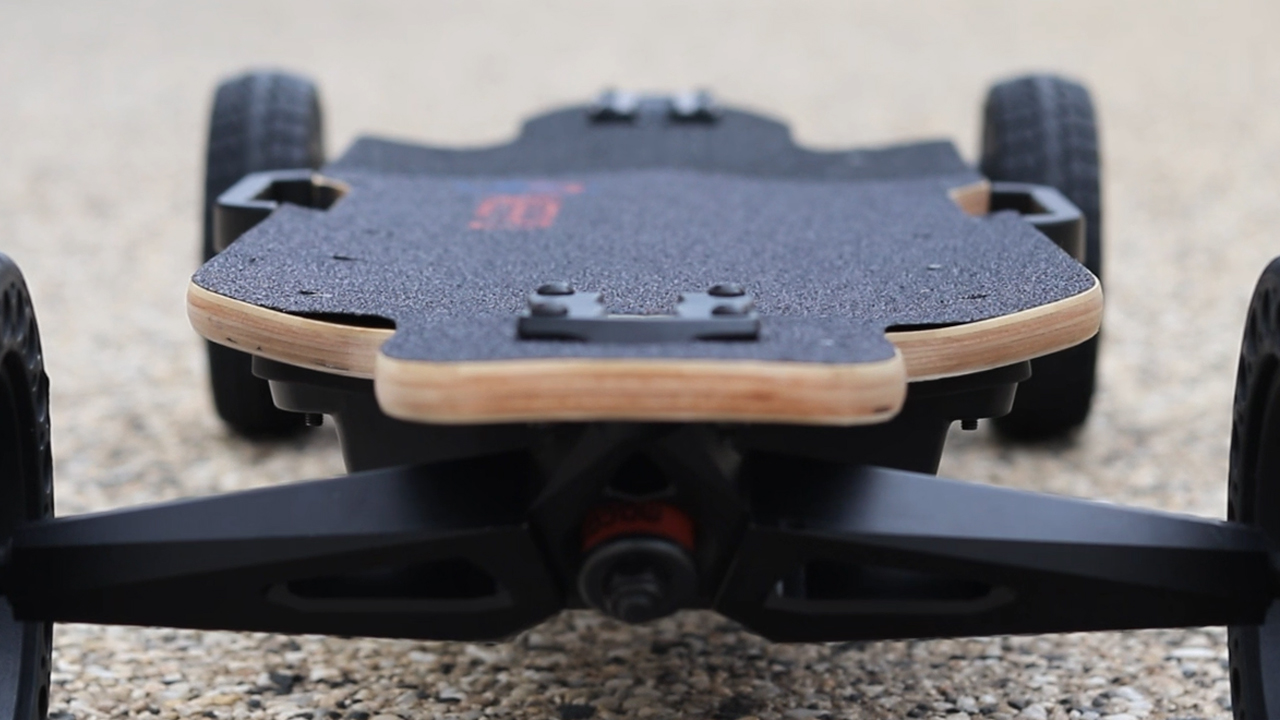 Lastly, the deck is 38″ long and made of 8 layers of Canadian maple and 1 layer of bamboo. Not sure why they even bothered to put that layer of bamboo in there, because this board does not flex at all, except for the slight bounce at the end towards the trucks.
It's a drop-through W-shaped concave deck and is really comfortable to stand on. You really feel like you're on a massive board.
In The Box
The accessories you get with the Meepo City Rider 2 are:
M4 remote
T-tool
50.4V 3A board charger
3-way threaded USB cable that has Lightning, Micro and USB-C on one end
17mm spanner for the wheel nuts
two different sized allen keys
XT60 cable
Wrist band
Business cards
stickers
Overall Thoughts
Overall, the Meepo City Rider 2 is a fantastic electric skateboard that is capable of riding off-road just as comfortably as it does on-road.
If you're looking for a commuter board and you're riding door-to-door without taking any public transport, then this is a great option. If part of your commute is on a train, bus or tram, then this thing might be a bit big to carry on there.
For those who want a cool deck to go thrashing along off-road trails, the Meepo City Rider 2 is a blast.
Get yourself the best price by buying your Meepo City Rider 2 here.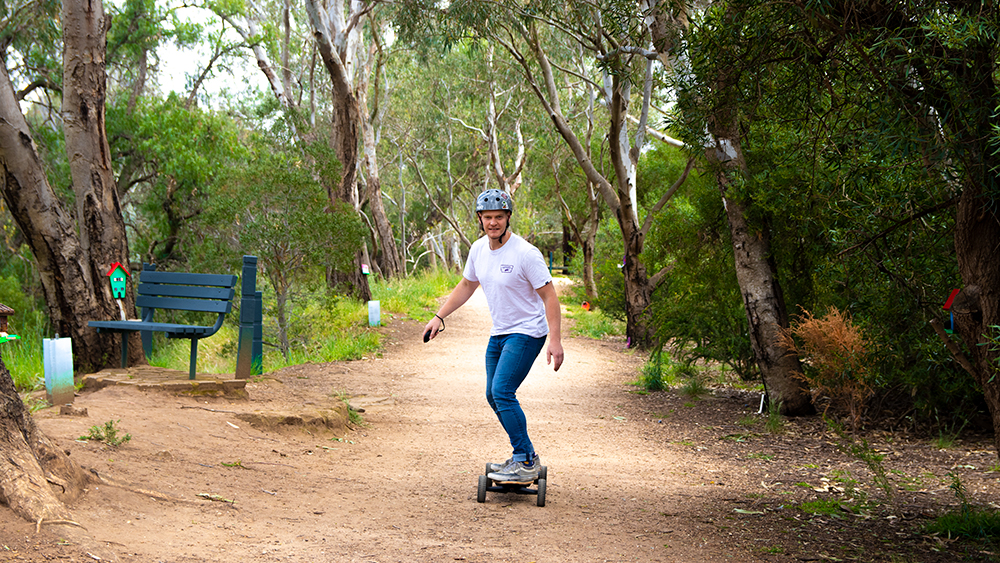 Alternatives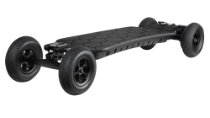 WowGo AT2
The WowGo AT2 is one of my personal favourite off-road electric skateboards. It's powerful, comfortable and uses top-quality parts.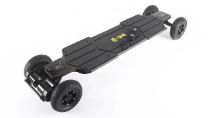 B-One Hercules Carbon AT
The B-One Hercules is one of the best cost-effective AT electric skateboards available.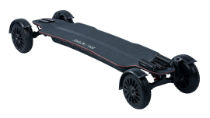 Backfire Ranger X3
As far as hub-motor electric skateboards go, the Backfire Ranger X3 is incredible. It tackles the toughest of terrains with ease and has the power that'll make your jaw drop.