Consider looking at the Exway Wave and the enSkate R3 Mini. Both are much better electric skateboards for a similar price.
Or check out my list of the Best Mini Electric Skateboards
About Miles Board
Miles Board are an American owned, and Chinese manufactured electric skateboard company.
This isn't abnormal. A lot of the major brands have their products produced in China.
But I am sceptical about the quality of components that Miles use because, after a year of use, the battery is completely dead and can no longer pull me up any sort of incline.
My love for this eboard has dwindled over time and now doesn't even make the list of my favourite best electric skateboards.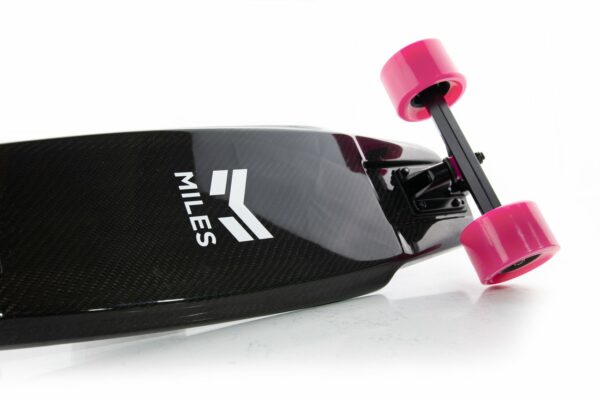 Who Is This Electric Skateboard For?
The Miles Boards are small electric skateboards that are good for getting from A to B so long as you don't have too many hills to climb.
Also, don't expect this board to last longer than a year. I gave my Miles Dual to a friend who rode it every day and the battery completely died in just under a year of use.
They use cheap quality components to save a few bucks but still charge a premium for it.
It's best used for getting to the local train station or down to the cafe for a coffee. I wouldn't want to be doing long trips on this eboard..
Because of the boards size and materials used, The Miles is super lightweight. This makes it an incredibly easy eboard to carry around when you're not riding it.
It's small enough to stow under your seat or in the overhead compartments without getting in anyone's way.
Just think of that super awkward guy who tries to bring his entire bicycle onto the train…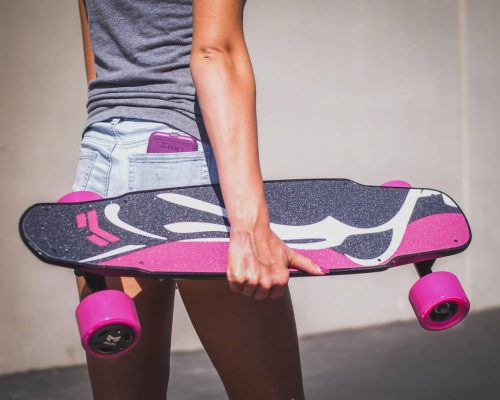 The Specifics
The Deck
Both of the Miles Boards have a 100% carbon fibre deck, which is unlike some brands that boast a carbon fibre deck while actually having a wooden core and only wrapped in carbon fibre. This is what gives Miles that ultra-modern look.
The perfectly shaped, super-slim deck oozes old-skool skate vibes with a nice kick-tail added for the ideal carving ride.
All of the electronic components are housed inside the board, so it actually looks a lot like a regular skateboard at first glance.
One of the cool things about the Miles board is that they have utilised a swappable grip tape plate so you can quickly and easily change your grip tape without the notoriously frustrating task of changing it manually.
When Miles Board originally released their electric skateboards, they offered two grip tape options. Now they have a ton of new designs for you to choose from.
The Wheels & Trucks
The Miles electric skateboard reps 80mm, 80A wheels with a 52mm contact patch which will give you a smooth riding experience on most street surfaces.
You've got a choice of two wheel colours. Their signature pink wheels, which in my opinion look really nice agains the carbon fibre deck, or you can go for the black wheels.
To make this eboard even better, a set of 105mm Cloudwheels will increase your comfort tenfold. Make sure you get the donuts version and ask Cloudwheels if they will fit.
The have a type of caliber trucks on the front and a custom built set of trucks on the back for the hub motors.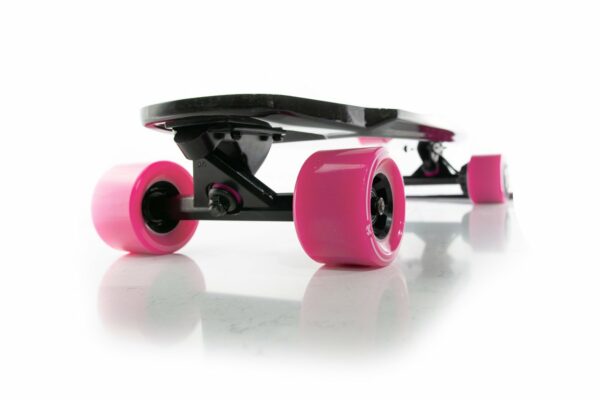 The Battery
The Miles Single has a 3A 36V 104Wh battery. This is enough to get you up to 13 miles if you ride the board in Slow mode. If you want to jack up the power and ride it in Fast mode, you'll get probably get around 8 miles.
In the Miles Dual there is a 4A 36V 144Wh battery. So it's definitely got a little extra juice compared to the Single. You'll be able to get 18 miles out of Slow mode and around 10 miles on Fast.
Both batteries have the same charge time. It's around 2 hours at the long end if your battery is completely flat.
The Motors
As the names suggest, the Miles Board Single runs on a single brushless hub motor while the Miles Dual has two brushless hub motors.
They are packed with power, being able to propel you you to top speeds of 18mph on the Single and up to 22mph on the Dual.
With the Single and Dual's high torque curve, you'll be able to climb hills with a grade of 15% and 20% respectively with ease.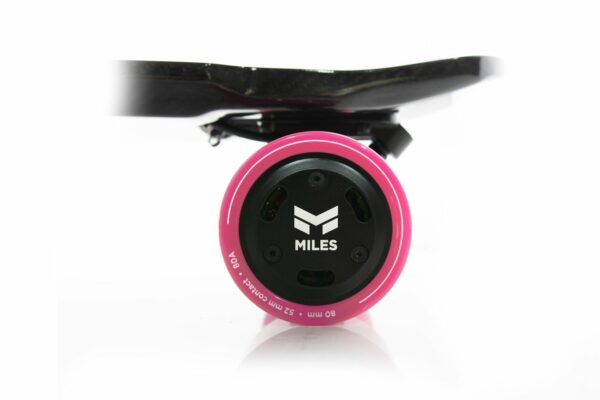 The Remote
Each of the Miles Boards have their own separate remotes. The Single has all of the basic needs in a remote such as the thumb toggle for acceleration and braking. But that's it.
The Dual on the other hand is decked out with the whole shebang. It has an LED display which shows you information about your current speed, the overall distance you have travelled on your board, a battery level indicator for your board and the remote and it even has a little safety light built in.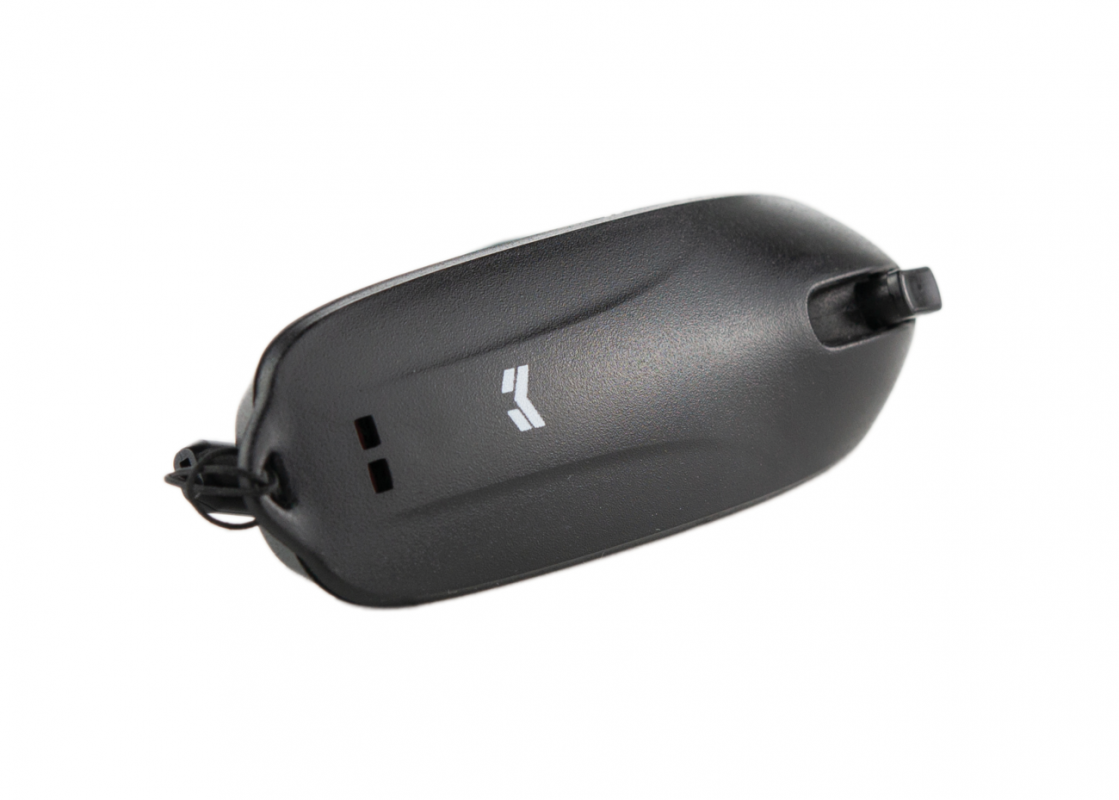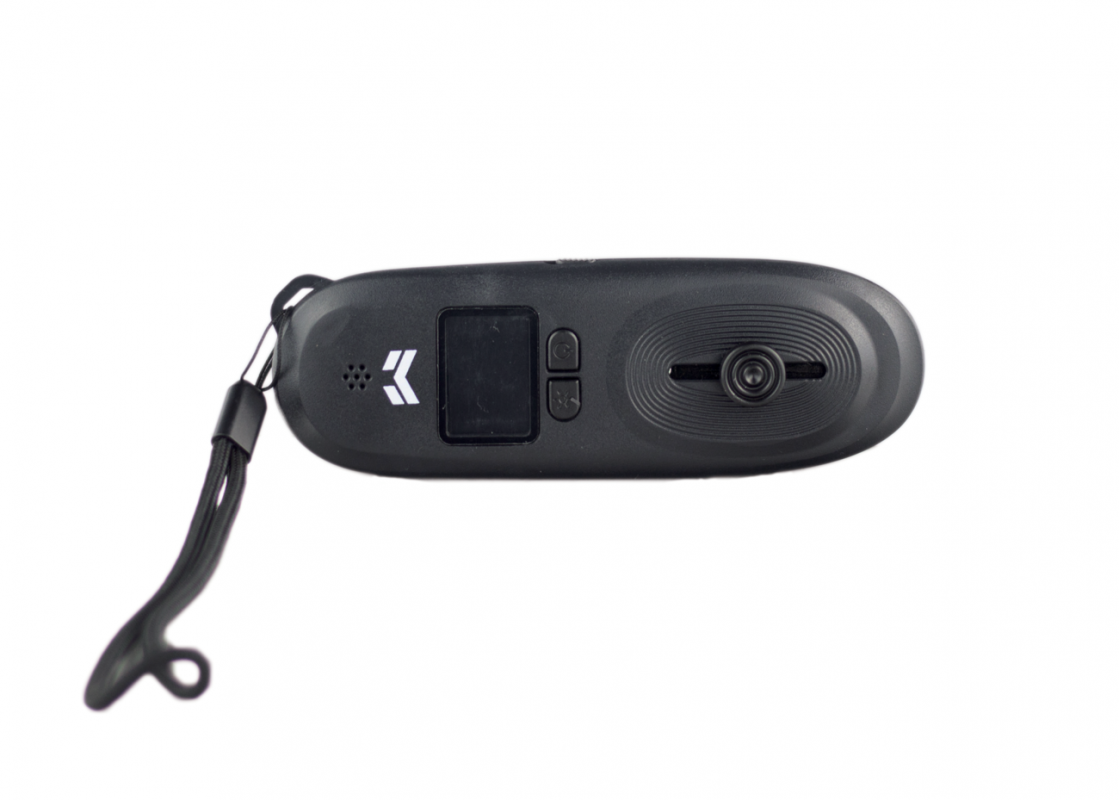 In The Box
In the box you'll also get a remote, charger for the board and the remote, T-tool and a user manual.
What Could Be Done Better?
Because the carbon fibre deck is hollow, there is a lot of space inside the enclosure surrounding the electronics. So, sometimes when you are travelling at high speeds you can hear a slight rattling noise of some of the components. However, I don't think it's anything to worry about.
The biggest issue I found was the poor quality components that are used. Specifically the battery. It doesn't last longer than a year.
I really hope that their other products aren't packed with the same battery, otherwise, all you'll have is an expensive doorstop in 12 months time.
Customer Reviews
I searched the internet looking for other Miles Board customer reviews and all I could find were the "5-star" reviews on their website. Not a single mention of concern or a rating less than 4.9 stars… Hardly sounds transparent to me.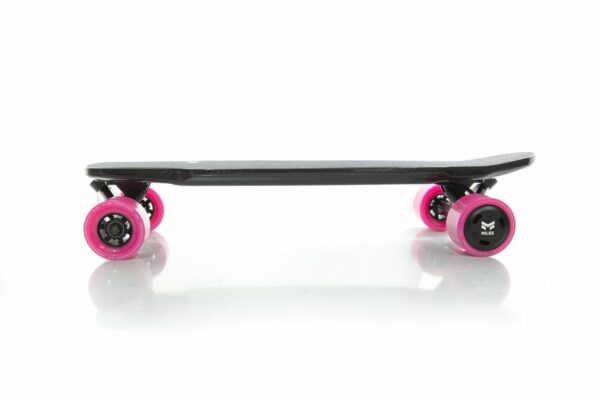 Final Thoughts
For $750, I would not waste my money. There are FAR better eboards out there for a lot less money.
Alternatives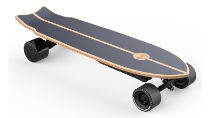 Teamgee H20 Mini
The Teamgee H20 Mini is a robust short electric skateboard that challenges most boards when comes to range capability.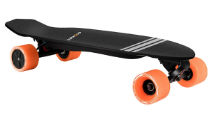 enSkate R3 Mini
The enSkate R3 Mini is a great value short electric skateboard, especially for the price point it is at.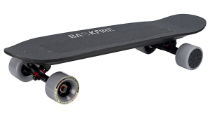 Backfire Mini
The Backfire Mini is a great pocket-rocket that is compact and easy to store.