Watch:
About Laxboards
We have yet another brand new electric skateboard company on the scene.
They are called Laxboards and they are here with their debut release, the Lax One.
The founder and CEO of Laxboards, Joey, launched this company off the back of his other successful company Nobleman Tech where they produce protective gear for eSkaters.
Joey started Laxboards with a small group of people who have all been DIYing their own electric skateboards for the last 5 years.
Now, they've decided to release something for the eSkate community to enjoy.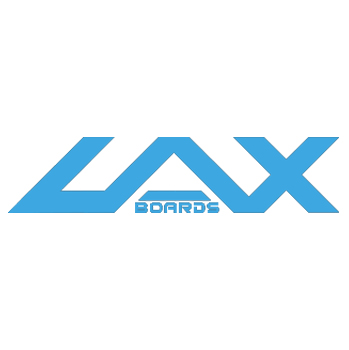 The Specifics
The Deck
The Lax One deck is the most unique feature of the entire eboard.
It is 33.4″ long and 9.7″ wide, which put's this deck closer towards the category of a skateboard rather than a longboard.
It is super thin at 0.9″ thick which is incredible considering it houses all of the electronics and battery inside it.
The deck is made of a material that Laxboards developed themselves which consists of glass fibre, polycarbonate and a toughening agent.
The composition makes for an extremely durable deck while still providing flex for a comfortable ride.
And it gives the edges of the deck a translucent look which is kind of cool.
Along the side of the deck are built in LED lights which flash and rotate colours between red, green and blue.
It's a great feature, especially for riding at night but there is no way to control the colour or pattern of the lights.
I prefer just having a single solid colour, while others like the flashing and interchanging of colours.
Having the ability to control the LED lights would be awesome to see in future iterations. Until then, let's do what eskaters do best and show off our new toy to everyone 🙂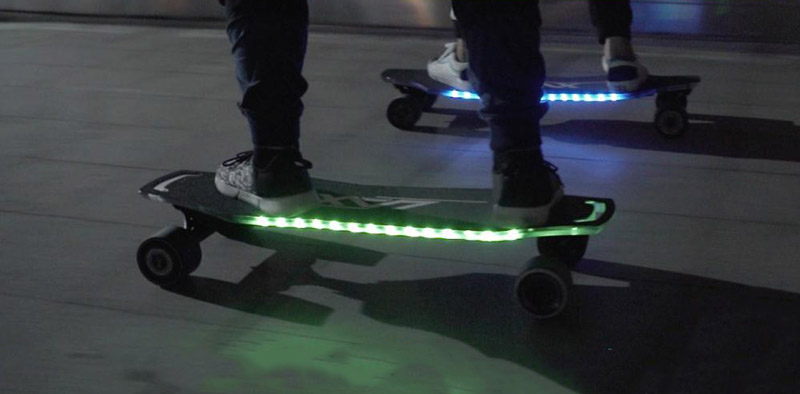 It is a completely flat deck with zero concave. I like a good bit of concave because it helps me to feel more confident on a board. But for those who prefer a flatter deck, this is perfect.
The deck has a unique cut where it is narrowest at the ends and in the centre then broadens out with jagged corners towards the wheels.
It also has handles at either end of the deck to make carrying easy.
'It's easy', they said.
Well, it's not really the most comfortable handles in the world. You don't really want to be carrying it by the handles for extended periods of time because they do dig into the hands a little bit.
Plus, you can't straight-arm the board while carrying it with the handles so it gets awkward there too.
I just grab the board around it's width and rest it against my waist.
Lastly, the grip tape is not the coarsest I've experienced. It didn't rip my hands up at all but I also didn't have any grip issues while riding. However, it could pose an issue if the grip tape was to get wet.
But you won't be riding this eboard in the rain anyway.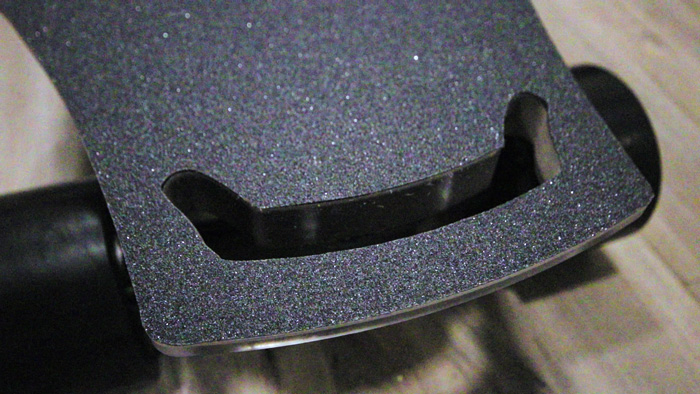 The Wheels & Trucks
The Lax One has standard 90mm 80A wheels which initially feel stiff when squishing them with your hands, but when you take them out for a ride, they are actually really smooth.
They absorb a ton of vibrations and feel extra grippy against the road.
It's got a standard set of trucks on the Lax One which were really loose when I recieved them.
They felt really responsive and it was easy to turn. Almost too easy sometimes.
I attempted a few tight circles and I snagged some wheel bite leaving me ass-up on the ground.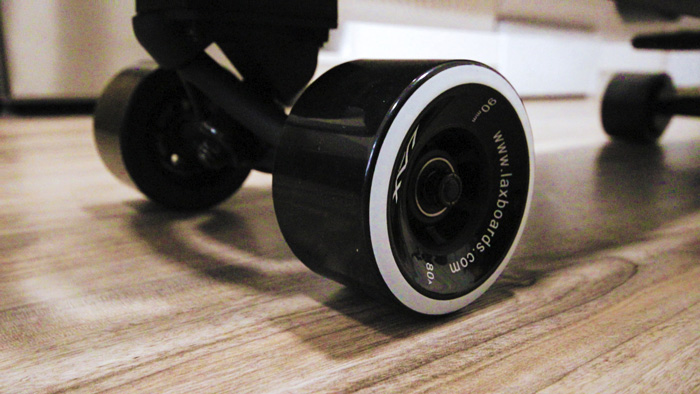 The Battery
Laxboards opted to install a 36V 5.0Ah polymer battery in the Lax One.
This is an interesting choice because we haven't seen any eboards recently using this kind of technology.
Most companies have made the move to Lithium-ion batteries because they tend to be a little safer.
Although, it's understandable that Laxboards would choose polymer for the extra power in a smaller package, especially considering their deck thickness and the flexibility of the deck.
Just don't leave this thing on charge or take it on any airline flights and you'll be fine.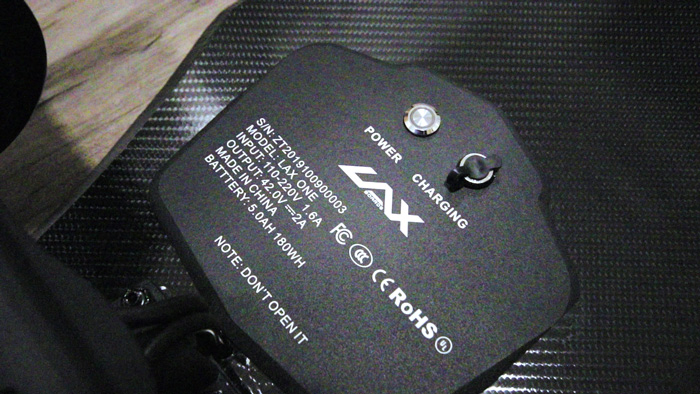 The Motors
The Lax One is decked out with dual 500w hub motors.
They have replaceable PU sleeves and you conveniently get an extra set in the box which is always nice.
The acceleration is smooth and balanced along the entire speed up process and the brakes are just as smooth, if not smoother.
Don't go riding too hard if there is any possibility of something jumping out in front of you because you won't have enough time to stop.
Riding at a cruising pace, around 15mph, allows the brakes to work efficiently and keep you safe.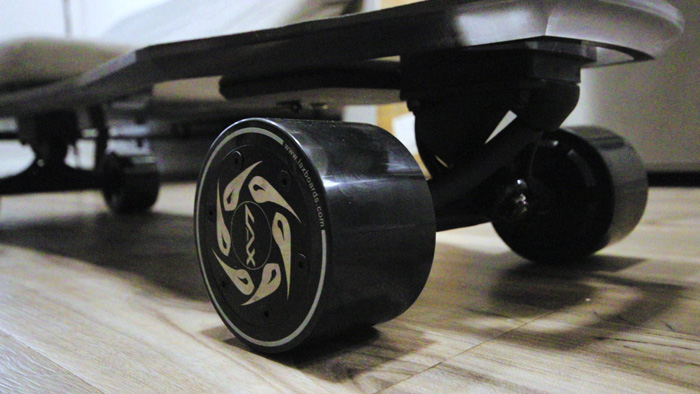 The ESC & Remote
There is really nothing special about this remote. It
s been around since the dawn of electric skateboarding so it is tried and and true, which gives me confidence while riding.
To turn the board on you simply click the power button on the eboard and then also on the remote. .it pairs pretty much instantly.
To move through the three modes, you click the gearbox button and you can identify which mode you're in by the speed of which the LEDs flash with the highest mode being the fastest flashing.
To accelerate, you move the thumbwheel forward and to brake you pull it back.
You can flick the Lax One into reverse with the swith on the side, underneath the thumbwheel.
And you can turn the eBoards LED lights on by double-clicking the power button on the remote.
It couldn't be more basic. Which is sometimes a blessing in disguise, especially for beginner riders.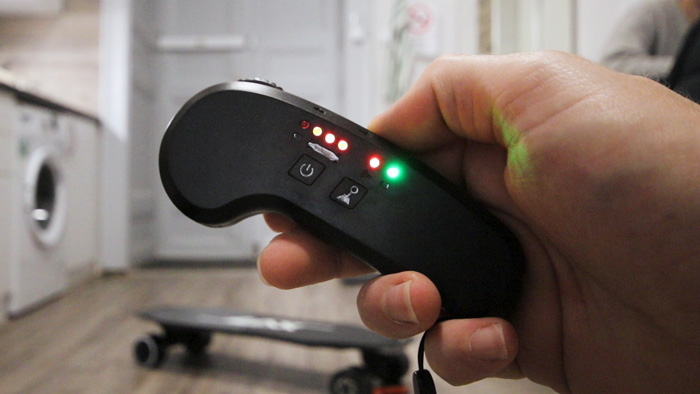 Performance Tests
Range Test
Laxboards claim the Lax One can reach a range of 15 miles (24km) and I believe them.
Even though I didn't reach that distance, I rode under non-ideal conditions and managed to get 12 miles (19.3km).
I weigh 183lbs (83kg), the roads were paved brick so it made it really bumpy and it was less than 40°F (5°C) outside.
My average speed was, pretty average at 12-15mph (20-25kmh), I was able to send it to it's top speed a couple of times.
I have no doubt the Lax One could reach it's full specced range capabilities ander better riding conditions.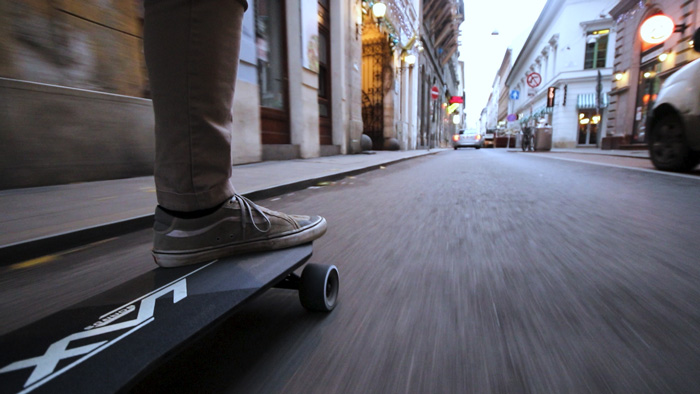 Speed Test
This was an interesting one because I attempted the top speed multiple times while out on the range test and I never managed to quite get there.
However, it wasn't becasue of a lack of power in the eboard, because I could still feel it accelerating before I had to brake. I started to get the speed wobbles before I could push it any harder to reach max.
In the end I hit a top speed of 22.3mph (35.7kmh).
A little below the specced speed of 24mph (38kmh), but I still think it would be possible to hit that if I tuned up the trucks a little better and had more safety gear on to build my confidence.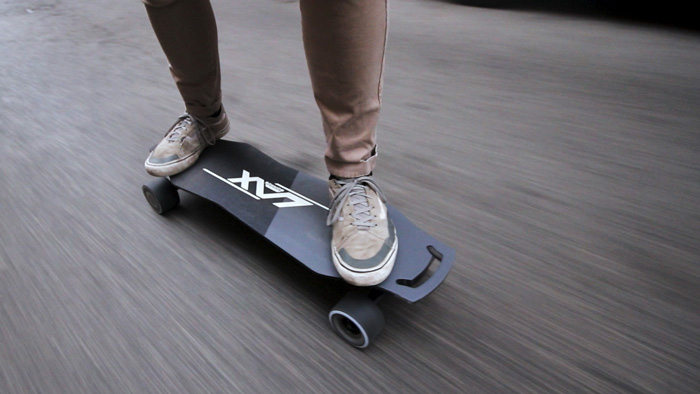 Brake Test
As I mentioned earlier, the brakes are extremely smooth.
They're not necessarily soft, but you'll hardly notice them coming on if you're prepared for braking.
At super high speeds you'll want to be careful about any obstacles because you might not be able to stop in time, however, if you're riding at a cruising speed the braking power is just right.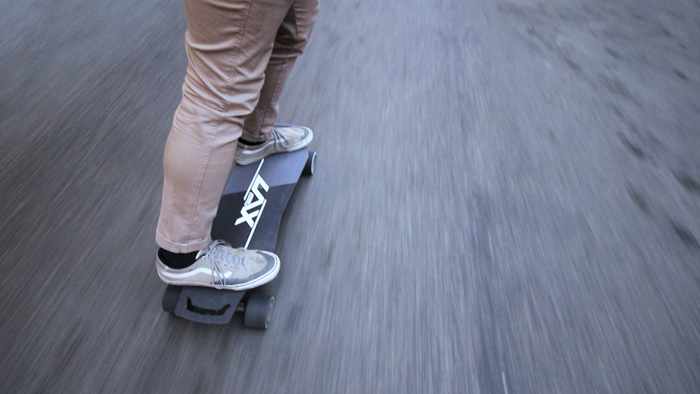 What's In The Box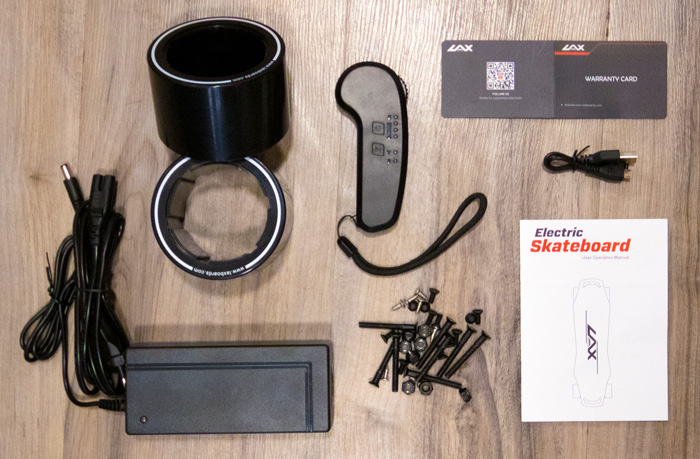 The Laxboards Lax One electric skateboard
Remote
Board charger
Micro USB cable
Skate T-tool
Replaceable PU Sleeves
Spare nuts and bolts
User manuals
What Could Be Done Better?
The first thing that comes to mind is the wheel bite.
They could add some spacers underneath the trucks and carve out a well in the deck to allow for an extra half-inch or so between the wheels and deckwhich would greatly reduce the amount of wheel bite you get.
I would also love to see the ability to choose the LED light colour and pattern on the eBoard so that it's not just random.
Who Is The Laxboards Lax One Electric Skateboard For?
The Laxboards Lax One is ideal for an intermediate eSkater or even a beginner who already has some experience in a board sport like snowboarding or surfing.
The truck setup gives the Lax One a very unique riding feel that feels a lot like riding a surfboard.
It is a great way to commute to work or school while being able to have some fun along the way with some tight S-turns.
And it'll also help you dodge pedestrians and yuppies taking their dogs for a morning walk.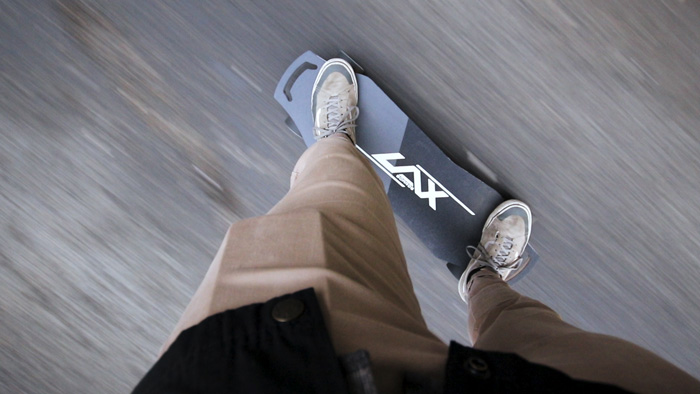 Final Thoughts
Overall, Laxboards Lax One is an interesting ride that feels a lot like going for a surf.
It is agile, moves fast and sticks to the ground.
It's easy to carry around because it is lightweight, not because of the handles, and it looks just like any other regular skateboard because of the thin deck with hidden components.
Definitely something worth checking out if you want something a little more fun rather than just a commuter.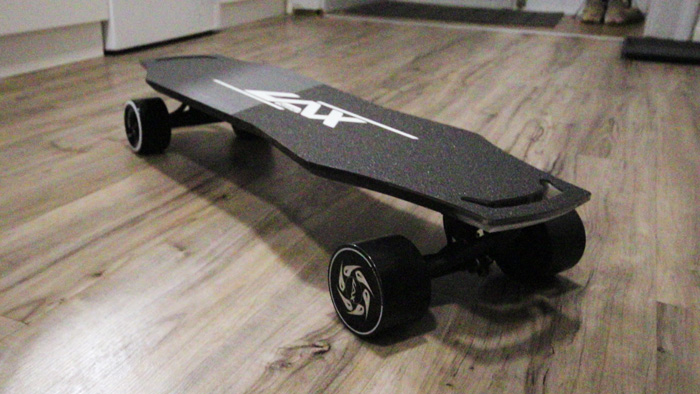 Alternatives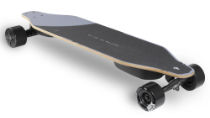 WowGo 2S Pro
The WowGo 2S Pro is an amazingly comfortable electric skateboard that you could skate for hours.