It looks like Acton is winding down their electric skateboard operation making it hard or even impossible to get after-sales service. I wouldn't recommend buying any of their products.
Check out my list of the Best Mini Electric Skateboards.
Special mentions:
Some Quick Specs
The Acton Blink S2 electric skateboard is an extremely well put together board. With a 31.2″ long and 8.5″ wide Canadian maple deck sitting atop an aluminium casing that houses the electronics, there's little-to-no flex in the board, but that's what gives it the old school skateboard cruiser feel. The concave edges and kick-tail lock your feet into the board and give you effortless control
You've got dual hub motors that together generate 1000W of power to propel the board with ease and be able to reach a top speed of 18mph (28.8km/h). Even hills with an incline grade of 20% are no match for the Blink S2. And when you're on the way back down, the regenerative braking will charge up the battery as you apply the brakes.
The hub motors are super quiet so you're not constantly putting up with that annoying whizzing sound that often comes with belt-driven boards. Another benefit of the hubs is that if you run out of juice, you can still kick-push the board without any worries.
You'll get a max distance of 14 miles (22.4km) from a single charge and when you do run out of battery, it only takes 1.5 hours to top it back up. You can also utilise the ability to kick-push the board from a standstill to get going, which will take unnecessary strain off the motors and get the most out of the range.
The Blink S2 has electric green 83mm 78A wheels which are small yet spongy so you will feel a bit of the vibrations but they'll help you to stay nimble on the board.
If you're looking for comfort, you can always upgrade to a set of 105mm Cloudwheels. That will give you a lot more comfort during your ride. Just be sure to check the deck clearance. You might need a bigger spacer.
Because the deck doesn't have any flex, the wheels do an awesome job of being your shock absorbers when going over those sneaky bumps and cracks in the roads.
Pros:
Hard, concave deck
Kick-tail
Built-in lights
Mobile app
Cons:
Remote runs on AAA batteries
Must use app to change riding mode
The Best Features
The Deck
I spoke a little about the Blink S2 deck earlier, but let's take a closer look as to why it is so awesome.
For starters, the 31.2″ deck makes it much closer to a standard skateboard oppose to a longboard. You don't see many 'skateboard-length' electric skateboards that are just as good as the longboards, so it's a nice to see Acton pulling it off this well.
The raised edges of the deck help you to feel the board under your feet and the extra abrasive griptape clings to your soles making you feel at one with the Blink S2. These elements give you the control and confidence on the board to cruise and maneuver around obstacles and foot traffic.
Without doubt, one of my favourite features on the Blink S2 is the kick-tail. It's not quite long enough to pull off any tricks but it's perfect for popping manuals, tic-tacking around corners, launching off raised platforms and avoiding bumps and cracks by pulling up the nose.
Built-In LED Lights
I love an electric skateboard that comes with lights.
The Blink S2 comes with white lights on the front of the board, red lights on the rear of the board, but not only that. It also has a strip of white LEDs down each side of the board. The strips are underneath the deck, up against the aluminium casing so they are subtle, yet still visible.
Although the lights aren't really strong enough to help you see at night, they do the important job of helping you be seen by car drivers and pedestrians in the dark.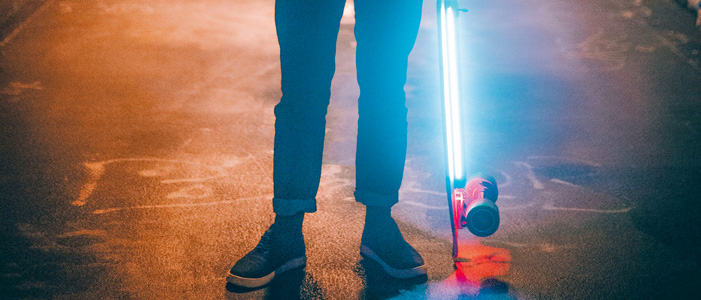 The Mobile App
I have to say, the mobile app from Acton is one of the better apps developed by eSkate companies these days. There are a ton of features!
After you sync up your board with the app, the clouds part to open a world of possibilities. You're able to finally get out of the beginner Mode and switch to Normal or Pro. That's where the real fun begins.
The app shows your current speed and a more accurate battery level compared to the the indicator on the remote. It also keeps track of your distance over time so you can see how many miles/kms you rack up. You can then pit yourself against other Acton riders around the world on the leaderboards.
Oh, and the lights! We can't forget the lights! You use the app to switch the lights on and off. Nifty.

What Could Be Better?
I feel like I'm nitpicking with these 'cons', but I need to mention them just to get them off my chest.
Firstly, the remote controller runs off AAA batteries instead of being USB rechargeable. Not a deal breaker. Just means we need to go down to the shops to pick up a pack of batteries so that we always have some on hand and aren't stranded with a dead remote and no batteries.
Secondly, and lastly, the riding mode can only be changed via the mobile app. There's no option to switch the mode on the remote. But honestly, once you find your feet on this board, you'll have a regular riding mode that you feel most comfortable in and you probably won't switch between modes that often.
Customer Reviews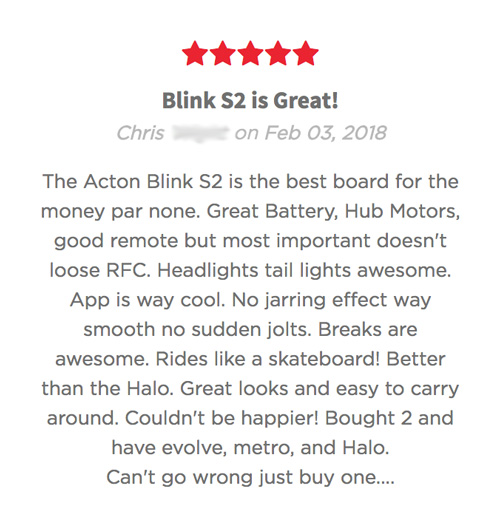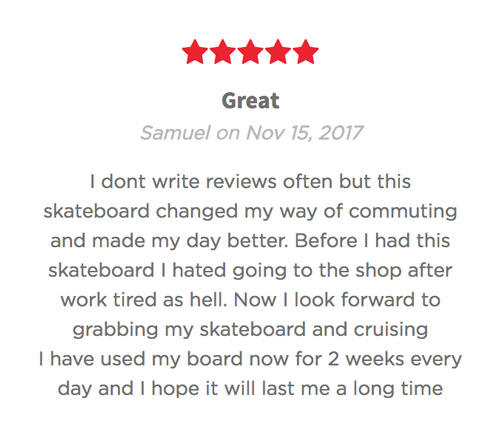 Final Thoughts
Overall, the Acton Blink 2S is an amazing electric skateboard. It's probably one of the best in it's price range and size. It has features that a lot of other boards don't, like the LED lights built in, a nice little kick-tail, and a really solid mobile app to go with it. It has everything for a beginner rider, while still offering fun for advanced riders.
Not What You're Looking For?
Don't stress, it's not for everyone. Check out the boards below that might be a better fit for you. Also, I've written an article on on the best electric skateboards that you should read.
Alternatives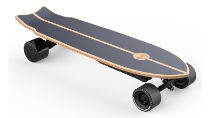 Teamgee H20 Mini
The Teamgee H20 Mini is a robust short electric skateboard that challenges most boards when comes to range capability.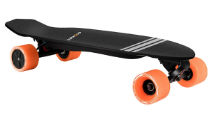 enSkate R3 Mini
The enSkate R3 Mini is a great value short electric skateboard, especially for the price point it is at.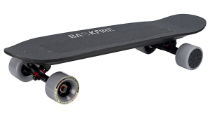 Backfire Mini
The Backfire Mini is a great pocket-rocket that is compact and easy to store.