It looks like Acton is winding down their electric skateboard operation making it hard or even impossible to get after-sales service. I wouldn't recommend buying any of their products.
Check out my list of the Best Mini Electric Skateboards.
Special mentions:
About Acton
ACTON is a frontrunner when it comes to developing innovative personal electric transportation. They've been producing electric vehicles for over 5 years and operate in over 100 countries.
They started out in Santa Clara, US after running a remarkably successful Indiegogo campaign.
Over the years, they have had several iterations of popular electric skateboards and scooters. Today they have honed their fleet down to three electric skateboards and one enterprise targeted electric skateboard.
Who Is This Electric Skateboard For?
The Blink S-R is an ideal electric skateboard for commuting to school, your workplace or around your college campus.
Even if you're not commuting, it's the perfect board for exploring the city or turning those annoying errands into the perfect excuse to get onto your electric skateboard.
It's also really lightweight, making it easy to carry around if you need to jump onto the train or grab a quick coffee on-the-go.
The Specifics
The Deck
The Acton Blink S-R is unlike any other electric skateboard that you usually see on the market. It has a 27.5" long deck with an 8" width which is a touch shorter than an old school skateboard.
It is insanely light. It only weighs 10 lbs so it's easy to carry around or attach to a backpack.
It is a Canadian Maple wood deck with an aircraft-grade aluminium casing for the electronics. The pairing of these materials makes for a durable electric skateboard without sacrificing its lightweight features.
The enclosure goes pretty much the whole way along the bottom of the deck. Therefore, the deck is really stiff with basically no flex. In my mind, that adds to the whole cruiser skate vibe Acton are going for here.
Its concave shape comfortably hugs your feet, locking you into the board and the kicktail offers an added nimbleness to your ride. I love the combo of the concave and kicktail because it means you can completely feel the deck beneath my feet when carving tightly or tic-tacking around corners and the kicktail allows you to jump up or leap off curbs.
The Blink S-R has LED headlights, tail lights and two strips of lights down each side of the board. This is an incredibly useful feature. The lights help you see at night, but more importantly they help you to be seen at night and during the day.
The Wheels & Trucks
The Acton Blink S-R rolls with 83mm 78A wheels.
The 83's are some of the smallest wheels you'll find on electric skateboards these days. I think the reason Acton chose this wheel size was so they can give the rider as close to a regular skate vibe as possible. The small wheels also offer a higher top speed and agility which is perfect for skating in cities.
The 78A durometer stiffness is actually quite soft so the rough surfaces of the city streets are absorbed giving you a nice and smooth ride.
The Battery
The battery on the Blink S-R is fairly standard however it does have one sweet perk. It runs at 80Wh which means you can safely take it on airlines when you're travelling. This is often an overlooked feature of electric skateboards that I love.
Because it's a small battery it only takes one hour to charge. But in spite of its small battery, it still manages to get a maximum range of 7 miles.
Unfortunately, the battery is not swappable, so you'll be stopping to recharge regularly if you have long trips. But it does have regenerative braking which helps a lot.
The Motor
The Blink S-R is powered by a single 500W hub motor.
This is enough to get you to a top speed of 15mph (24 km/h) and to climb hills that have an incline grade of 15%.
The hub motors are really quiet. People will hardly notice you if you sneak up on them, so be super careful when riding past shop fronts or if there's a lot of people around.
Also because the hub motor, you won't be left stranded if you run out of juice. You can still kick-push your board as you would with a regular skateboard.
The ESC & Remote
The bluetooth connected remote for the Blink S-R is really simple. It kind of looks like a bigger version of the nunchuck half of the Nintendo Wii controllers.
It has a joystick to control your speed and brakes with your thumb, a switch on one side that changes the mode from forward to reverse and on the other side is the on and off switch.
The Blink S-R has three riding modes. Beginner, Normal and Pro. As you move up the modes you gradually unlock higher top speeds, faster acceleration and harder braking power.
What's In The Box

Blink S-R electric skateboard
Board charger
Remote control
Remote charger
What Could Be Done Better?
The number one thing about this board that surprised me was that the remote requires 2x AAA batteries. It's not rechargeable like pretty much every other board out there. Really, it's not a big deal, and doesn't affect the performance of the board. But it is annoying to have to go out and buy batteries when your remote goes flat.
Another thing is that the acceleration and braking curve is a slower compared to other eboards. If you're seeking an adrenaline fuelled fide, this isn't for you. On the other hand, if you're down for just cruising around town or your college campus, then this will be perfect for you.
Customer Feedback
I hunted down some other customer reviews of the Blink S-R and this is what I found: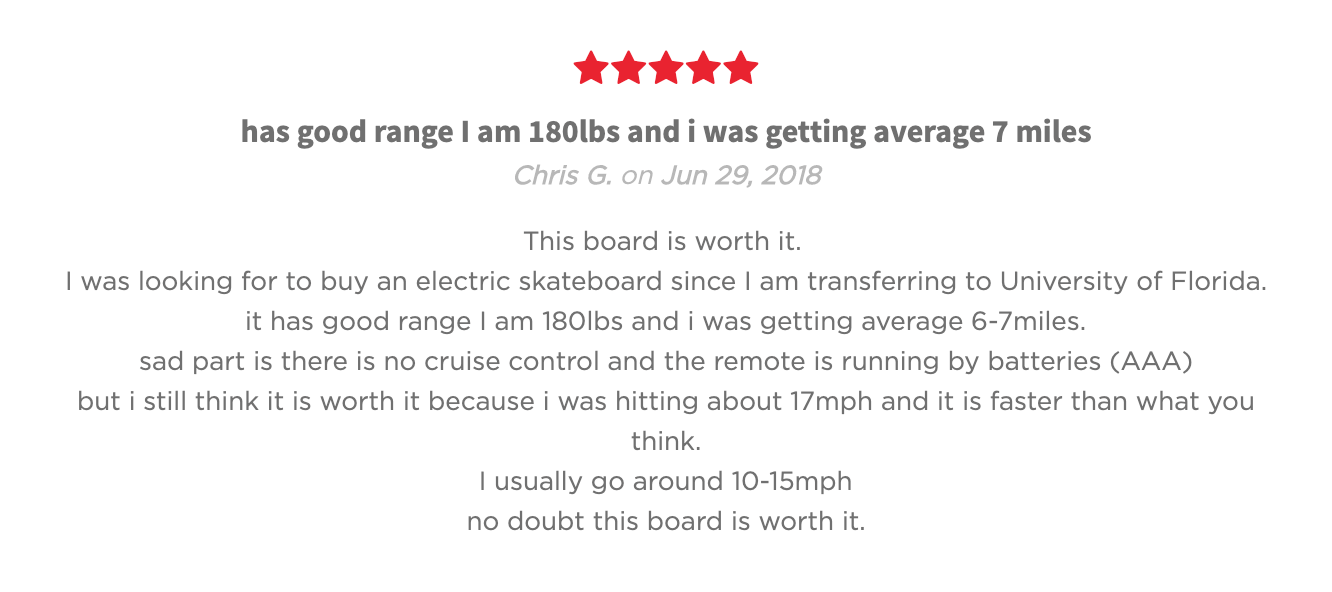 Final Thoughts
The Acton Blink S-R is very affordable so it won't leave a huge hole in your wallet. And despite being 'budget', it is still made of high quality materials and very durable.
The short, lightweight deck, is great for portability. It's easy to carry around when you're not riding it. You could even attach it to your backpack easily.
I love the LED lights all over. Not many eboard companies are doing this so it's nice to see Acton making this one of their point of differences.
If you're a first-time rider, college student, or just need a board to zip around town on, then the Blink S-R is your best bet.
Alternatives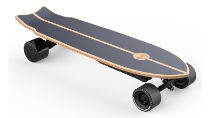 Teamgee H20 Mini
The Teamgee H20 Mini is a robust short electric skateboard that challenges most boards when comes to range capability.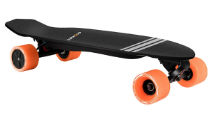 enSkate R3 Mini
The enSkate R3 Mini is a great value short electric skateboard, especially for the price point it is at.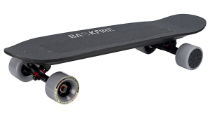 Backfire Mini
The Backfire Mini is a great pocket-rocket that is compact and easy to store.