For so long, electric skateboards were really just electric longboards. But in the last year or so we've started to see companies focusing their efforts on developing proper skateboard sized eboards.
One in particular that I'm quite excited about is the enSkate R3 Mini.
Get 4% OFF any enSkate electric skateboard with discount code ESKATEHUB
It's a 31.1″ long, 9.8" wide and 8-ply maple deck that only weighs 13.2lbs (6kg). That makes it slightly bigger than the Boosted Mini S but the R3 Mini weighs less.
The wide deck has a concave shape to help lock your feet in, plus the added kicktail gives you the ability to tic-tac around tight corners.
Take away all of the non-electrical components of the R3 Mini and it really feels like a proper cruiser board.
I thought that because the R3 Mini was lighter, it would have lower performance specs, but I was completely wrong.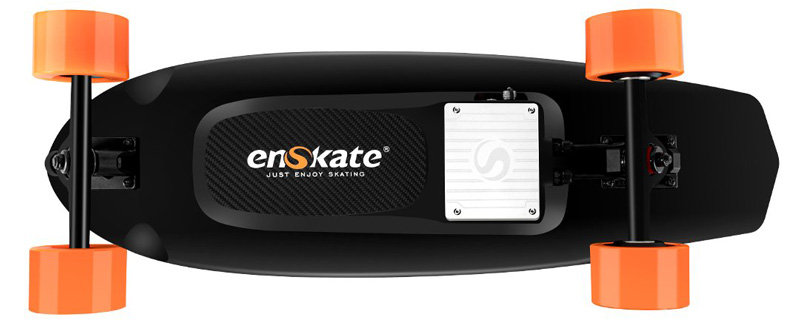 The enSkate R3 Mini has a 10S1P 90Wh battery which means you can safely take it on an airline. But not only that, considering the size of the battery, it can still reach up to 12.4 miles (20km) on a single charge.
In comparison, this is more range than the Boosted Mini S and only slightly less than the upgraded Mini X.
As for power, the R3 Mini electric skateboard runs on 2x 360W hub motors. That allows for a top speed of 21.7mph (35kmh) and is enough to climb hills with a grade of 20% incline.
This isn't the fastest we've ever seen, however, for a shortboard, you're not going to need too much more.
The hub motors have replaceable sleeves so you can change out the PU tires whenever they start to wear out.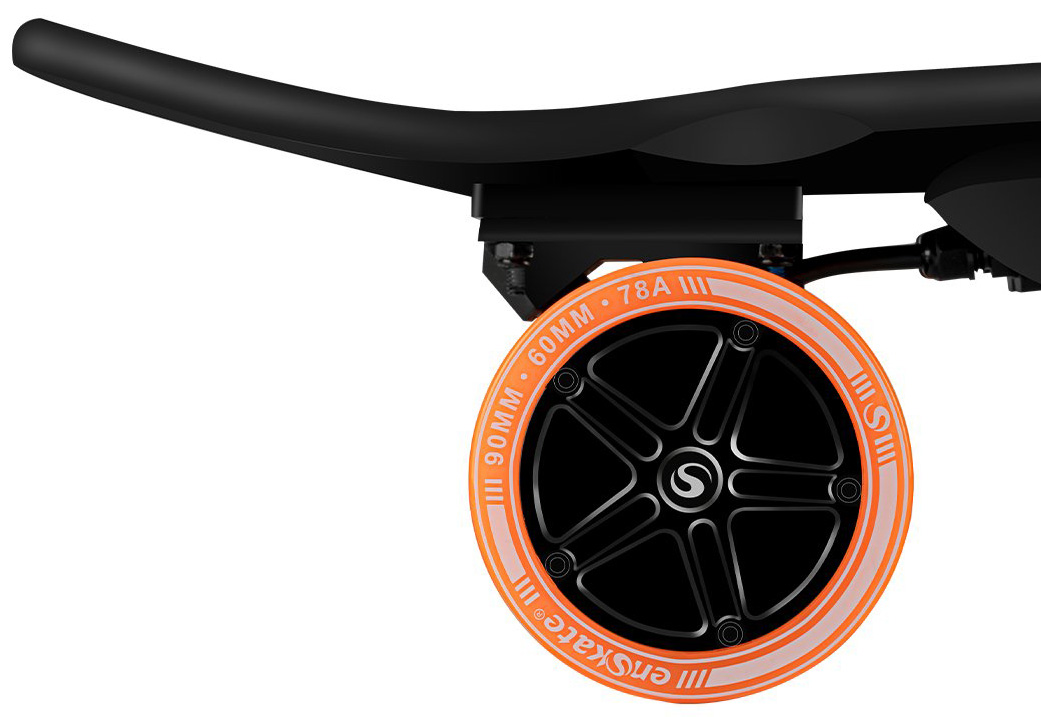 While we're here, let's take a look at the wheels. They are 90mm in diameter, 78A hardness and have a contact area of 60mm. That's a pretty standard wheel for electric skateboards these days. They're soft with a lot of surface contact on the ground. So you're going to feel stable and comfortable most of the time. Plus it'll help balance out the stiffness from the maple deck. However, the interesting thing to note here is that the wheels for the R3 Mini are made by the same supplier of the Boosted wheels. The Boosted wheels are tried-and-true, proven to be good quality. It's exciting to see these wheels make it onto the R3 Mini.
Lastly, let's talk about the price. You'll be happy to know that you can get the enSkate R3 Mini for $369 which puts it on the more affordable end of the price scale. Looking at the spec sheet, the R3 Mini offers some incredible value for that price.
Overall, it looks like it's going to be a great little electric skateboard. I imagine it will be ideal for commuting around college campuses, heading into work, or getting to the train station or bus stop. Its size makes it easy to take on public transport without taking up a whole extra seat.
You can take a better look at how the R3 Mini is going to compare against other similar electric penny boards in this table below:
Brand
Price
Top Speed
Range
Weight
Motor
Battery
enSkate R3 Mini
$399
21.7mph
35kmh
12.4 miles
20km
13.2lbs
6kg
2x 360w hub motors
10S1P 90Wh
Evolve Stoke
$1,119
22mph
36kmh
10 miles
15km
17.9lbs
8.2kg
2x 1500W belt-drives
151.2Wh
Meepo Mini 2
$379
29mph
46kmh
11 miles
17.7km
16lbs
7.2kg
2x 540W hub motors
10S2P 144Wh
Backfire Mini
$549
26mph
42kmh
11 miles
18km
13.2lbs
6kg
2x 450W hub motors
175Wh
enSkate are hosting an interesting try-before-you-buy scheme where you can pick up an R3 Mini and take it home with you for a whole week.
If you like it, you can keep it. If you don't like it, just hand it back to them no questions asked.
At the moment, this try-before-you-buy system is only available to people in the USA and Japan. It starts in late May but no date is confirmed. If it works well, maybe enSkate will give it a go in other countries too.
I'm really looking forward to getting on the enSkate R3 Mini and seeing how good this electric penny board is.