Hey eRiders,
This is my Varla Pegasus electric scooter review.
It is a powerhouse of an electric scooter that combines affordability with impressive performance.
Priced at $999, the Pegasus is a compelling choice for those seeking speed and range without breaking the bank.
And you can get a $60 discount with the code ESKATEHUB.
While its robust features and powerful ride make it an exciting option for seasoned riders, it's not necessarily the best fit for beginners due to its potent acceleration and high top speed.
If you're an intermediate or advanced rider looking for a thrilling commute or a fun ride around town, the Varla Pegasus might just be the electric scooter you've been waiting for.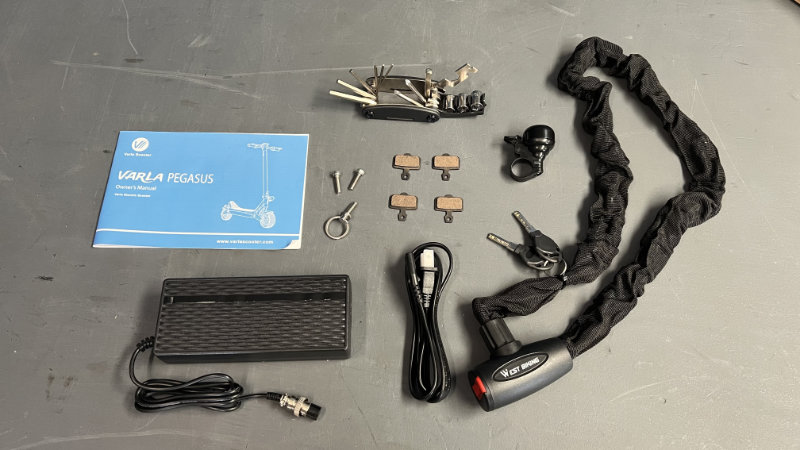 Varla Pegasus Review
The Varla Pegasus electric scooter is a powerful vehicle, designed to deliver an exhilarating ride experience while keeping costs low.
It's built with a sturdy frame made of aluminum and magnesium alloy, ensuring durability and stability even at high speeds.
The scooter weighs in at 66lbs / 30 kg, making it a substantial piece of equipment. It's heavy to move. Even just wheeling it around can feel like a bit of a struggle sometimes.
The Pegasus is powered by dual 500W hub motors, providing a combined 1000W of power.
This allows the scooter to reach a top speed of 28 mph / 45 kmh, offering a thrilling ride for those who crave speed.
The scooter's hill-climbing ability is also impressive, capable of tackling inclines of up to 25 degrees with ease. I rode up a hill with a gradient of about 15% and it powered up without any lag.
With a 48V 15.6Ah lithium-ion battery, the Pegasus can travel up to 28 miles / 45km on a single charge. This makes it an excellent choice for commuters or those who enjoy long rides. However, keep in mind that the charging time is 7-8 hours, so you'll need to plan your rides accordingly.
The Pegasus rides on 9-inch pneumatic tires, which are said to be puncture-proof, but there's always a nail out there somewhere big enough…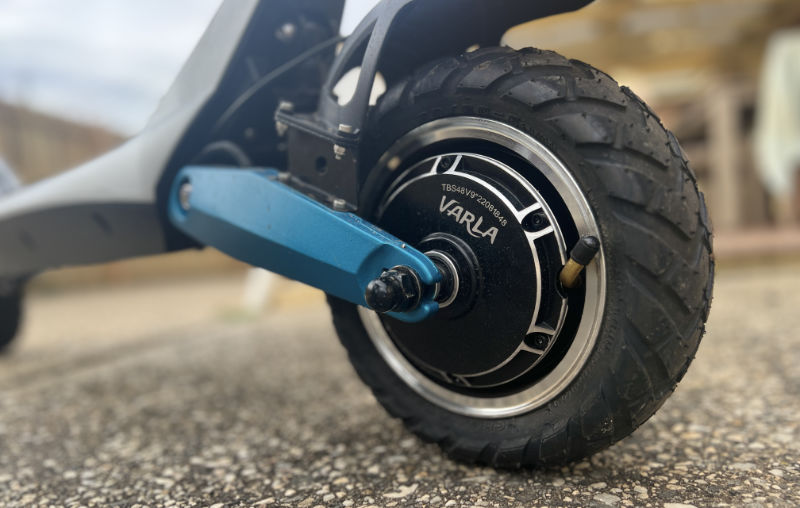 These larger tires offer increased shock absorption compared to older models with 8-inch solid tires, contributing to a smoother and more comfortable ride. They ride over bumps and cracks with ease and they provide a fair bit of clearance when riding down larger steps like from the footpath down onto the road.
The scooter also features dual disc brakes with 120mm discs, providing reliable and effective stopping power. I was able to halt to a stop within 10ft / 4m, which is a safe enough distance.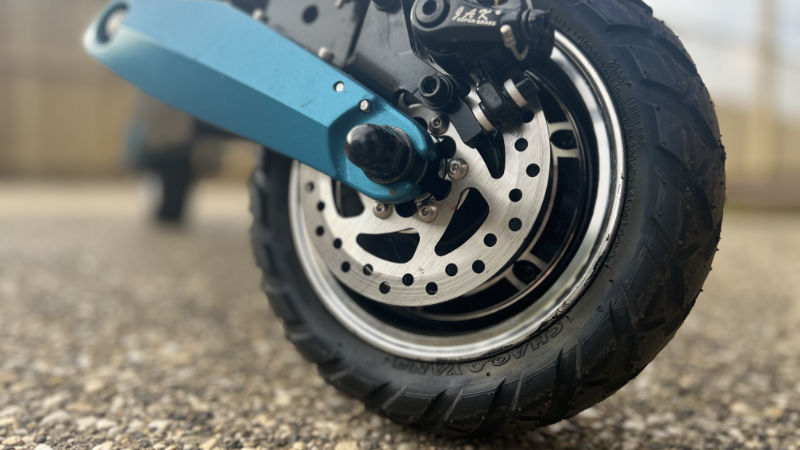 The deck of the Pegasus is fitted with a silicone pad, offering a secure and comfortable footing for the rider. Even while wet it still maintained grip with my shoes.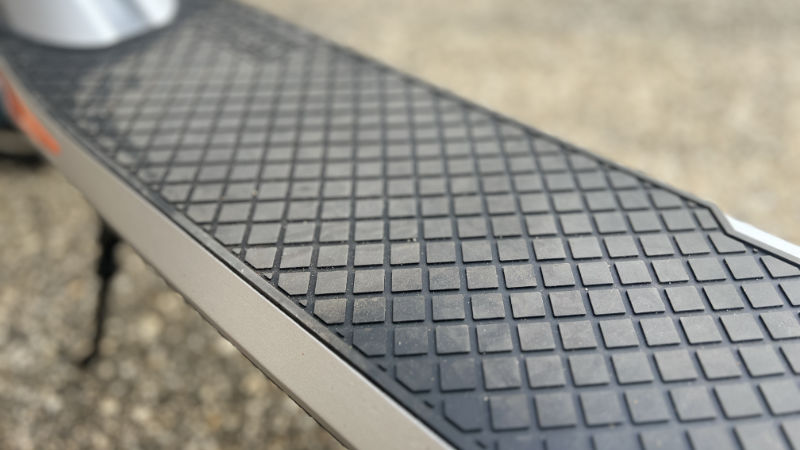 It can support a maximum rider weight of 280lbs / 127kg, making it suitable for a wide range of riders.
The M5 LCD display on the Pegasus provides a wealth of information at a glance, including battery level, current speed, speed mode, and lights. You can also cycle through additional data such as odometer, trip distance, real-time voltage, current, and trip time.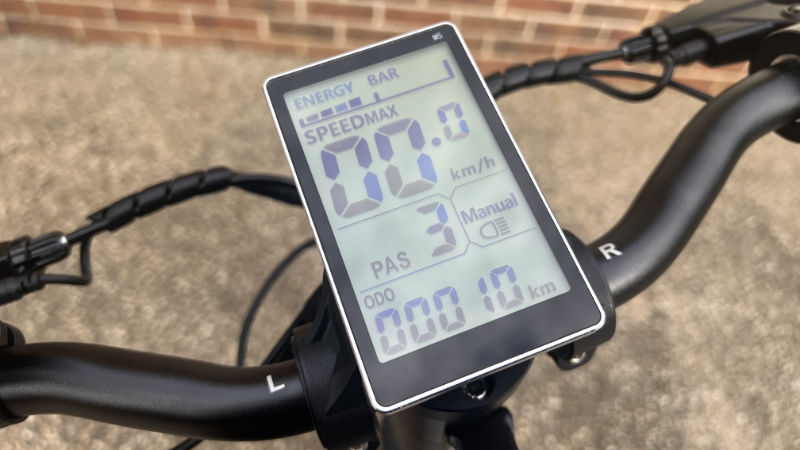 It has a high contrast and is backlit very well, so I could see the data on the screen in all lighting conditions.
What I Loved
The Varla Pegasus electric scooter is packed with features that make it a standout choice for both commuting and leisure riding.
One of the most notable advantages of the Pegasus is its exceptional suspension system. The dual spring suspension provides a smooth and comfortable ride, effectively absorbing shocks and bumps on the road. This makes the Pegasus an excellent choice for those who value ride comfort and stability.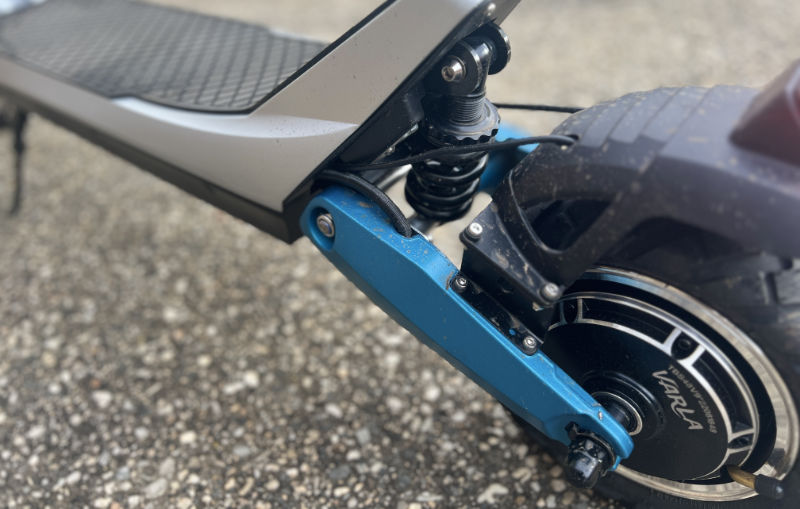 The head unit of the Pegasus is another major plus. Maybe one of my favourite features of this electric scooter.
On top of the features I mentioned above, the display also allows for customizable settings, giving you greater control over your ride experience.
The settings menu isn't intuitive, however, the user manual lists all of the settings options, what they do and the values.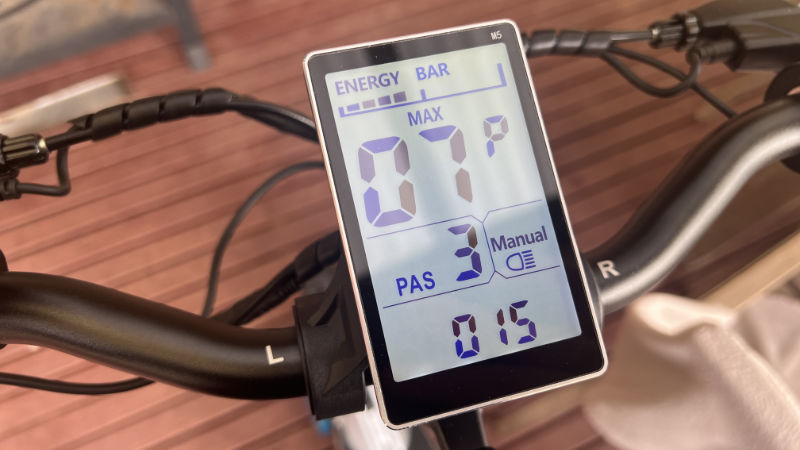 There are 17 different settings you can adjust, including the start mode, start sensitivity/strength, cruise mode, power level, unit of measurement, along with many others.
The Pegasus comes equipped with both headlights and taillights, enhancing visibility and safety when riding in low-light conditions. While the headlight may not be the brightest on the market, it's sufficient for making you visible to others and illuminating your path to a certain extent.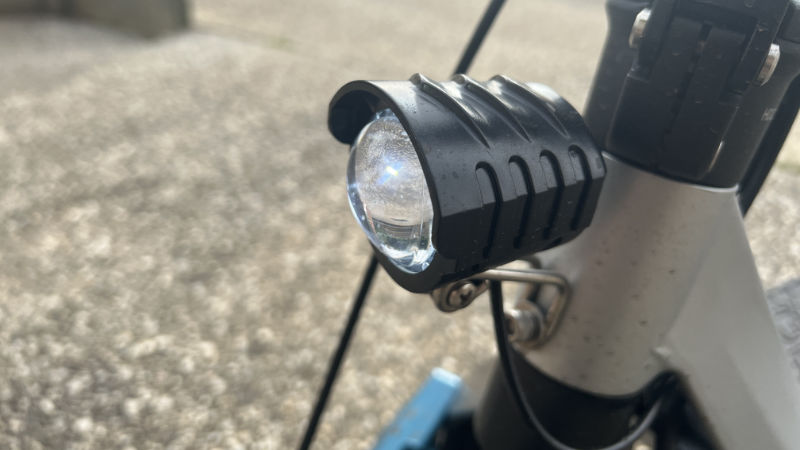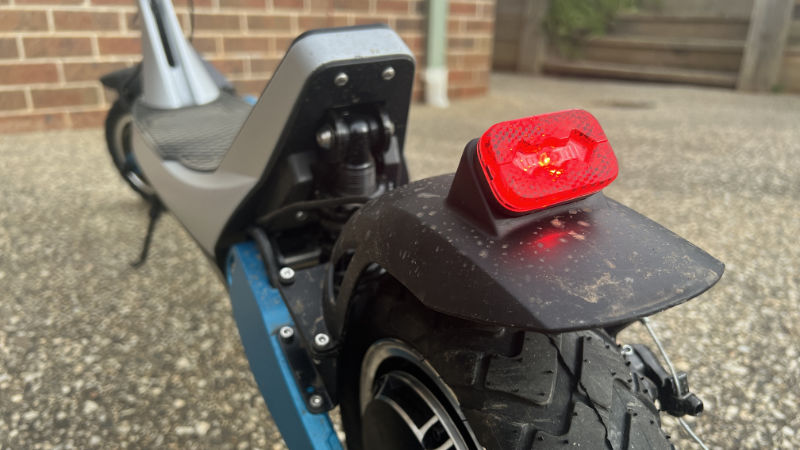 The scooter's stopping ability is impressive, thanks to its dual disc brakes. These provide reliable and effective stopping power, giving you confidence when riding at high speeds or in busy areas.
In terms of power, it is incredibly fast. It accelerates hard, so make sure you're holding on. If the power is a bit too much, you can always adjust it down in the settings.
The scooter's control at high speeds is really good. Thanks to the dampening stabilizer in the stem, the Pegasus feels steady and controlled even when riding at its top speed. This feature enhances the scooter's stability and gives you greater control over your ride. This dampening does have a downside, but I'll talk about that in the next section.
What truly sets the Pegasus apart is its overall ride feel. Along with its power and speed, the scooter offers a comfortable and enjoyable ride. The silicone deck pad, combined with the scooter's excellent suspension and large pneumatic tires, contributes to a ride that is both thrilling and comfortable.
As an aside, the Pegasus also comes with a lock, which is a thoughtful addition that many riders will appreciate.
What I Didn't Love
While the Varla Pegasus electric scooter offers a host of impressive features and benefits, there are a few things that I found to be not ideal.
One of the most notable issues is with the scooter's grips, which have a tendency to slip. It wasn't a lot, and I had to really give them a good turn, but it still made me question whether the grips would maintain their position when riding. Despite attempts to tighten them, they seem to be as tight as they can go, which can be a nuisance as I had to reset them every so often after my rides.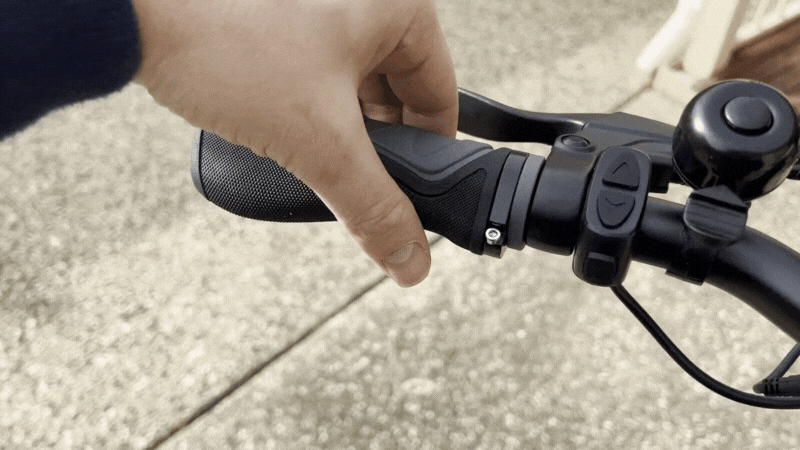 The headlight, while a valuable feature for safety and visibility, isn't as bright as one might hope. While it's sufficient for making you visible to others, it doesn't illuminate the path ahead as much as you might like for night riding. Riders who frequently travel after dark may need to consider additional lighting solutions.
The brake callipers rub against the disc brake. While this can be adjusted, it's not an entirely straightforward process, which could be a deterrent for those less mechanically inclined.
The high damper in the stem, while beneficial for stability at high speeds, makes the scooter difficult to turn at low speeds. This could be a challenge for riders who need to navigate tight turns or crowded areas. I didn't feel completely balanced at lower speeds because I couldn't turn the handlebars fast enough to maintain my balance. It's just one of the tradeoffs for high speed stability.
The kickstand is another area where the Pegasus falls short. It's not easy to pull out with your feet, particularly if you're wearing certain types of shoes.
Finally, while the Pegasus boasts 9-inch pneumatic tires that are said to be puncture-proof, if you do happen to get a flat, the tubes are not only hard to change but are also quite expensive. Varla offers replacement tubes for $44, a steep price compared to a regular road bike tube that costs around $10.
Final Thoughts
The Varla Pegasus electric scooter, priced at $999, offers a compelling blend of power, speed, and comfort.
While it does have a few minor drawbacks, its strengths far outweigh these, making it a top contender in its price range.
Its high performance and impressive features make it an excellent choice for intermediate riders seeking a thrilling ride.
Beginners might find it a bit too powerful, but for those ready to take their electric scooter experience to the next level, the Varla Pegasus is a ride that's hard to beat.
Get $60 off with code ESKATEHUB